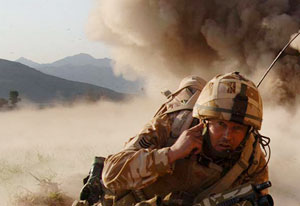 There is a growing minority of firearms industry professionals that are tired of the status quo. Some professionals refuse to question things that are considered "commandments" in regards to firearms training. We are questioning these things, learning, and changing the industry; challenging ingrained habits bit by bit.
For example: the "Weaver" stance versus "Modern Isosceles" stance.
The "weaver" stance came about in 1959 and gained popularity in the '60s. While it's been an accepted standard since then, about 10 years ago a growing group came onto the scene using the "modern isosceles," which is now slowly taking over as the standard.
We are now seeing more and more industry professionals thinking outside the box. Thanks to Internet-based communications and the sharing of ideas, we are seeing rapid changes in the industry. This is a good thing.
This article centers on a statement made in most firearms training classes of all types including mine (in the past, but not lately):
"Under stress we lose the ability to use fine motor skills. Therefore, keep things as simple as possible: don't use the slide release, palm slap the "paddle" (on an AR), etc." [Read More…]
{ 23 comments }