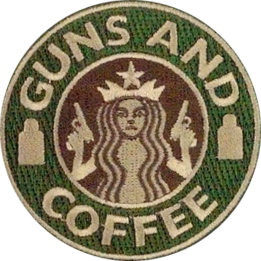 OP Tactical has taken the lead on getting the Guns and Coffee patches produced and we're happy to announce their release!
Starbucks is refusing to prohibit the open carrying of firearms in its stores, and the Brady Campaign's logo that this patch was based on has become the opposite of what they envisioned when they created it. Click here for more information on the original issue.
Patches come "hook" velcro backed in both a 3.5″ size for $4 and 2.75″ size for $3.50. Each are available in the traditional Green and White Starbucks colors as well as the MultiCam color scheme shown here.
$2 from each of these patches sold will be donated to the Special Operations Warrior Foundation.
The link to purchase the 3.5″ or the 2.75″ patch is here.
Update 3/18/10: OP Tactical was contacted by OpenCarry.org, who felt that the patches wouldn't help the issue. OP Tactical went with the suggestion of opencarry and respects their point of view.
Update 2/3/12: The patches are now back in stock on OP Tactical!
Are you getting more than 14¢ of value per day from ITS Tactical?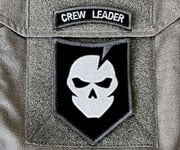 Please consider joining our Crew Leader Membership and our growing community of supporters.
At ITS Tactical we're working hard every day to provide different methods, ideas and knowledge that could one day save your life. Instead of simply asking for your support with donations, we've developed a membership to allow our readers to support what we do and allow us to give you back something in return.
For less than 14¢ a day you can help contribute directly to our content, and join our growing community of supporters who have directly influenced what we've been able to accomplish and where we're headed.