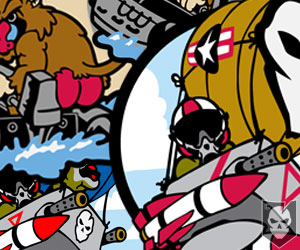 We're expanding our Morale Patch offerings with two new designs based off of some sayings we had in the Navy that we felt needed to be turned into patches.
With the help of our artist extraordinaire Matt Gambrell, we commissioned Baboon Ass and Combat Hot Air Balloon Pilot.
You're probably wondering what these terms mean, so allow us to explain.
Baboon Ass
The term Baboon Ass is a Navy term for the red, swollen ass you get during a long transition on a Zodiac F470 bouncing off the tubes. The Z-Bird is a truly unforgiving creature and a long inflatable boat ride can leave you feeling it for days!
We felt that Matt truly captured the essence of the term with the designs to the right. Help us decide which one to produce by voting in the poll below. (click image to enlarge)
[polldaddy poll=4027117]
Combat Hot Air Balloon Pilot
This was something we used to tell people when a simple "I'm in the Navy" didn't suffice upon being asked what we did. We had a pretty elaborate explanation put together where we'd talk about new nano-technology in basket weaving and how we were experimenting with a new sky coloration to seemingly disappear until we were right on top of the enemy.
We'd talk about how one of us was the 50 gunner and how there was nothing like that 5o rockin' on the basket mount. Hey, it was either that or you'd tell someone you drove the Zipper on the Coronado Bridge if you didn't want to bring up the military at all.
Matt really hit this one out of the park and we're having trouble deciding which one we like! Help us decide which one to produce by voting in the poll below. (click image to enlarge)
[polldaddy poll=4027120]
Let us know what you think of the new patch designs!
Are you getting more than 14¢ of value per day from ITS Tactical?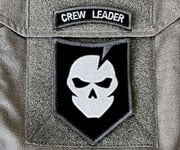 Please consider joining our Crew Leader Membership and our growing community of supporters.
At ITS Tactical we're working hard every day to provide different methods, ideas and knowledge that could one day save your life. Instead of simply asking for your support with donations, we've developed a membership to allow our readers to support what we do and allow us to give you back something in return.
For less than 14¢ a day you can help contribute directly to our content, and join our growing community of supporters who have directly influenced what we've been able to accomplish and where we're headed.