We've got a couple a great new items releasing today, including our Grow a Pair Morale Patch and a 4-Piece Bogota Titanium Toolset. You guys have been asking for a quality-built traditional pick set and we're happy to finally offer one that's made in the US and made out of titanium!
The 4-piece toolset includes three straight picks and one tension wrench, together weighing just 0.3 ounces. Their inherently "flat" shape make them easy to store and not to mention corrosion resistant and non-magnetic.
You can pick up our new items in the ITS Tactical Store starting today!
Are you getting more than 14¢ of value per day from ITS Tactical?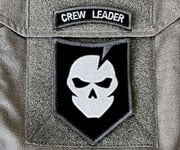 Please consider joining our Crew Leader Membership and our growing community of supporters.
At ITS Tactical we're working hard every day to provide different methods, ideas and knowledge that could one day save your life. Instead of simply asking for your support with donations, we've developed a membership to allow our readers to support what we do and allow us to give you back something in return.
For less than 14¢ a day you can help contribute directly to our content, and join our growing community of supporters who have directly influenced what we've been able to accomplish and where we're headed.