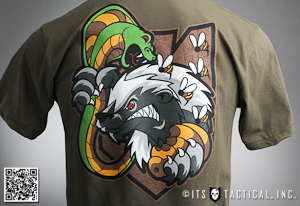 We've just received our newest shirts and patches in and we've got some big announcements. For starters, here's a rundown of all the awesomeness in the store today! Honey Badger Shirts, St. Patrick's Day Prevale Shirts, Ladies Revolver Shirts, Crew Leader Shirts, New Plank Owner Shirts, Medical PVC Patches and St. Patrick's Day Shamrock Patches! (please remember to log in to view member specific merchandise)
ETA Trauma Kit Pouches in Coyote Brown are back in stock along with our Stainless Steel Bogota Entry Toolsets. If you haven't yet seen our Shock Cord Inserts or Gen 2 Holster Inserts, be sure to check those out too.
Another thing we're proud to announce is that all our Men's T-Shirts are now printed on American Apparel 100% Fine Jersey Cotton T's. These are made in the USA and of course also printed in the USA as all our T's were. We've also added sizing charts to our store supporting documentation so that you can ensure you're ordering the right fit for you.
Here's some nice hi-res images of all our new products, let us know what you think and thanks for your continued support!
Are you getting more than 14¢ of value per day from ITS Tactical?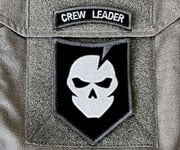 Please consider joining our Crew Leader Membership and our growing community of supporters.
At ITS Tactical we're working hard every day to provide different methods, ideas and knowledge that could one day save your life. Instead of simply asking for your support with donations, we've developed a membership to allow our readers to support what we do and allow us to give you back something in return.
For less than 14¢ a day you can help contribute directly to our content, and join our growing community of supporters who have directly influenced what we've been able to accomplish and where we're headed.