ITS Pennant Flags, are a smaller alternative to our larger Battle Flags and can be displayed just about anywhere; including the summit on your next adventure.
Measuring 12″ wide x 18″ tall, these digitally printed flags feature grommets for hanging or even attaching to a flag pole. We haven't skimped on quality with these flags, they're hand made in the US by American workers.
Microfiber Pack Towels
Today we're also adding some new colors and sizes of our ITS Microfiber Pack Towels, they're now available in Sand, Coyote and OD Green. Coyote and OD Green are a new larger 30″ x 50″ size and the Sand is 20″ x 40″

Discreet Messenger Bags
We've also restocked our Foliage, Coyote and Black Discreet Messenger Bags in the ITS Store!

Are you getting more than 14¢ of value per day from ITS Tactical?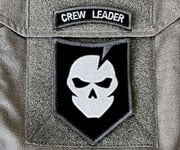 Please consider joining our Crew Leader Membership and our growing community of supporters.
At ITS Tactical we're working hard every day to provide different methods, ideas and knowledge that could one day save your life. Instead of simply asking for your support with donations, we've developed a membership to allow our readers to support what we do and allow us to give you back something in return.
For less than 14¢ a day you can help contribute directly to our content, and join our growing community of supporters who have directly influenced what we've been able to accomplish and where we're headed.