Threeper T-Shirts, ITS Field Notes and a Blow Out SALE Today at ITS!
Today we have some great new products launching in the ITS Store, as well as a "Blow Out" sale on our ETA Trauma Kit Pouches!
Through Monday, we're marking our popular ETA Trauma Kit Pouches down 15%. ITS Members can combine their membership discount with this sale to save even more! Enter the discount code "BLOWOUT" to receive 15% any ETA Trauma Kit Pouch and don't forget to add your membership discount!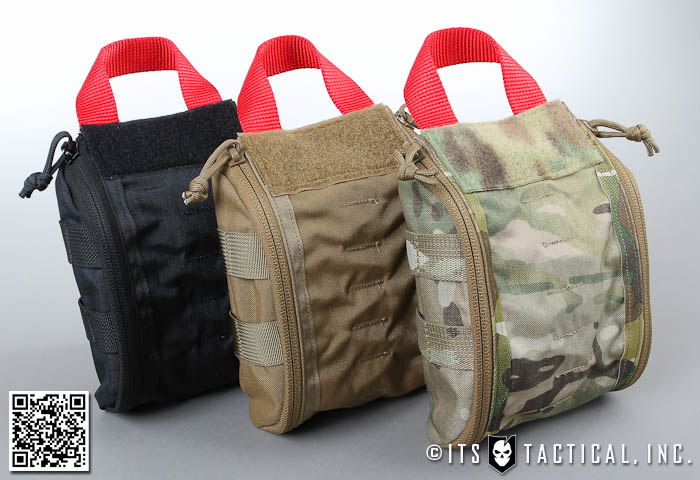 This sale does not include our vacuum sealed  ETA Trauma Kits  and is only available on in-stock merchandise. Sorry, No Rainchecks. If purchasing a vacuum sealed trauma kit with the pouch as a bundle, the pouch will need to be added to the shopping cart separately for the discount to be properly applied.
Threeper T-Shirt
Matt's thought process behind our Threeper T-Shirt:
The Threeper art came from the news, moreover the leftists branding those who have chosen to take the Gadsden flag as a symbol of our dissatisfaction of the Government encroaching more and more into our lives. This personally resonates with me, as do my convictions to the preservation of the Constitution and our 2nd Amendment rights, thus the motto "come and take it" on the blade of the Threeper's scythe. This is reminiscent of the flag flown in 1778 during the American Revolution at Fort Morris and later in 1835 during the Texas Revolution, as an expression of defiance to disarm.
In the Threeper's right hand is the rattlesnake, which is in representation of the Gadsden flag, it's outstretched in a manner to reflect the motto on the Threeper's scythe. The Nyberg flag hangs in the background and resonates the theme of the drawing. All encompassing what we as a people should stand up for, the preservation of the constitution, securing our Second Amendment rights. Trying to remove any of these under our watch would not be prudent, as the Threeper is symbolized as the grim reaper (threeper) with an ITS logo mouthless skull.
During the American Revolution, the active forces against the tyranny of the Crown never amounted to more than 3% of the colonials. They were in turn actively supported by roughly 10% of the population.  In addition to these revolutionaries were another 20% who were in favor of their cause but did little or nothing to help. Today, the Nyberg Flag and the 3% represent the gun owners. History has shown that it can be made by a determined minority and we as gun owners are a minority in an ever growing fight to restrict our right to bear arms.
We The People, which can be seen on the front and back of the shirt represents who the Threeper is there to defend, our constitution. In small text underneath the main Threeper graphic on the back of the shirt reads "defense against imminent threats, both foreign and domestic." We also can't forget to mention our motto printed on the front, PREVAIL!
ITS Field Notes
Field Notes have been a daily carry here at ITS for quite awhile and we're now offering our ITS branded Field Notes to you. Featuring a hand-stamped ITS Logo, this set of three 3 1/2 x 5 1/2 memo books each have 48-pages of graph paper worth filling up with good information.
We've also included an ITS golf pencil with each three-pack so you'll always have something to jot your notes down with.  Proudly printed and manufactured with durable materials in the USA.
Are you getting more than 14¢ of value per day from ITS Tactical?
Please consider joining our Crew Leader Membership and our growing community of supporters.
At ITS Tactical we're working hard every day to provide different methods, ideas and knowledge that could one day save your life. Instead of simply asking for your support with donations, we've developed a membership to allow our readers to support what we do and allow us to give you back something in return.
For less than 14¢ a day you can help contribute directly to our content, and join our growing community of supporters who have directly influenced what we've been able to accomplish and where we're headed.