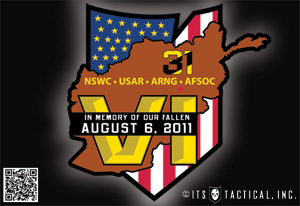 We've been updating our 8.6.11 Tribute Patch design to honor those that gave their lives in Afghanistan on August 6, 2011 and have made some changes based on feedback we've received from our readers.
ASOC (Army Special Operations Command) will be replaced with USAR and ARNG to properly honor the Chinook crew comprised of the Army Reserve 158th Aviation Regiment and the Army National Guard 135th Aviation Regiment. In addition, the 30 will be replaced with 31 to recognize the K-9 with Naval Special Warfare. We're also adding a star for the K-9 as well. The updated art is shown on the right and we've also updated the descriptions on the checkout page and original article.
Last but not least, we're working on allocating all the proceeds to multiple charities that will support the Army National Guard crew and the Air Force Special Operations, in addition to the Navy SEAL Foundation.
Are you getting more than 14¢ of value per day from ITS Tactical?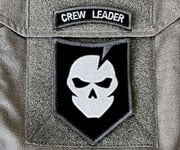 Please consider joining our Crew Leader Membership and our growing community of supporters.
At ITS Tactical we're working hard every day to provide different methods, ideas and knowledge that could one day save your life. Instead of simply asking for your support with donations, we've developed a membership to allow our readers to support what we do and allow us to give you back something in return.
For less than 14¢ a day you can help contribute directly to our content, and join our growing community of supporters who have directly influenced what we've been able to accomplish and where we're headed.