Honoring Marc Lee: America's Mighty Warriors and What We've Done With Your Help
Today marks the fourth year I've been able to remember Marc Lee here on ITS Tactical. Marc Lee was the first Navy SEAL killed in Iraq on August 2nd, 2006 and I had the honor of serving with him in the Navy while I was at BUD/s.
Marc was awarded the Silver Star posthumously for his brave and unselfish actions on a Ramadi rooftop. As stated in his award citation, he was conducting clearance operations in south-central Ramadi with members of a Naval Special Warfare Combat Advisory element.
This is also the second year we've been able to raise money for Marc's mother's charity, America's Mighty Warriors, thanks to your help in purchasing  5.1.11 Morale Patches.  It was designed to commemorate May 1st, 2011 and the fantastic operation that Marc's teammates from DevGru executed in killing Osama Bin Laden.  
America's Mighty Warriors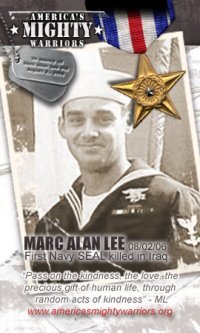 If you haven't heard of Debbie Lee's Non-Profit 501(c)(3) Charity,  America's Mighty Warriors, it was founded to help our military, their families and those that have fallen through their loss. Inspired by Marc's last letter home, the Glory Letter, Marc challenged the world to commit random acts of kindness and hoped for a brighter future for this country. Debbie has undertaken that goal with a passion for giving back to those in our military who desperately need it.
I continuously recognize Debbie Lee's charity over other equally worthy charities, for one very important reason, she needs our help! Debbie runs AMW full time by herself. I completely understand what it's like to develop something bigger than you and how rewarding it can be.
There are many great charities that I've personally contributed to both during my time in the Navy and after, like the  Navy SEAL Foundation,  Special Operations Warrior Foundation,  Lone Survivor Foundation  and  Wounded Warrior Project. What I want to mention here is that these organization, while being extremely worthy of any help we can give them, are large and well funded compared to America's Mighty Warriors.
Thank you to everyone that's purchased a 5.1.11 patch and all that you've allowed us to give back to America's Mighty Warriors!
Please also visit  America's Mighty Warriors  on  Facebook,  YouTube  and  Twitter.
Are you getting more than 14¢ of value per day from ITS Tactical?
Please consider joining our Crew Leader Membership and our growing community of supporters.
At ITS Tactical we're working hard every day to provide different methods, ideas and knowledge that could one day save your life. Instead of simply asking for your support with donations, we've developed a membership to allow our readers to support what we do and allow us to give you back something in return.
For less than 14¢ a day you can help contribute directly to our content, and join our growing community of supporters who have directly influenced what we've been able to accomplish and where we're headed.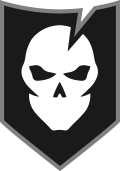 On August 25th, 2012, I will be attempting to break the World Record for Most Pushups in One Minut with a 60 pound pack. I am trying to use the attempt to raise money for military charities and America's Mighty Warriors would be perfect. If ITS would help spread the word and help raise money for the .45% that would be awesome. Plus I could really use some advice on running the donation partN so if you'd help with that, I will supply the pushups. God Bless.
Thank You to the ITS Crew for Honoring Our Heroes!!
I met Debbie Lee a few tears back at a pro-troop rally here in Iowa and we've been racing with a decal honoring Marc and all our heroes on our drag race car since then as our own tribute.
Gene "FlashBack" Hinders
www.elimn8u.com
Thank You to the ITS Crew for Honoring Our Heroes!! I met Debbie Lee a few tears back at a pro-troop rally here in Iowa and we've been racing with a decal honoring Marc and all our heroes on our drag race car since then as our own tribute. Gene "FlashBack" Hinders www.elimn8u.com