Breaking News: Explosions Reported at Boston Marathon
There are numerous reports of explosions at the finish line of the Boston Marathon. We aren't speculating on what is going on but our thoughts and prayers go out to those affected.
If you are in Boston, keep an eye on each other and stay safe. Here's what you can do to help:
Looking for a runner? Use this form: 2013 Boston Marathon Live Race Coverage
If you're trying to call someone in Boston, phone lines are jammed. SMS, Twitter, and Facebook might work better. [Lifehacker]
Reconnect with loved ones in Boston on Red Cross Safe and Well
Donate blood at the Boston American Red Cross

274 Tremont Street – Boston, MA 02116
Red Cross is reporting that there is enough blood currently on hand. It also may still be unsafe to be in public. Stay home if possible.

If you have extra blankets and live near the Boston Common, there are a LOT of cold runners being corralled there. [@ajsfour]
If you're a business in Boston, now would be a good time to unlock your Wi-Fi to help people connect with concerned family and friends. [@strngwys]
If any family members of victims need help w/ airfare or more, email me directly and @hope will cover it. [email protected] & 678.641.5016 [@ShaunKing]
Live radio stream: 90.9 WBUR NPR
Live news updates on  The Verge
Hotlines:

For families of victims: 617-635-4500
For tips: 1-800-494-TIPS

Google Person Finder: Boston Marathon Explosions
How to Get in Touch With Loved Ones During a Disaster [WIRED]
Somerville residents have spare beds for runners, contact via Twitter [Somerville Journal] (also check this Google form)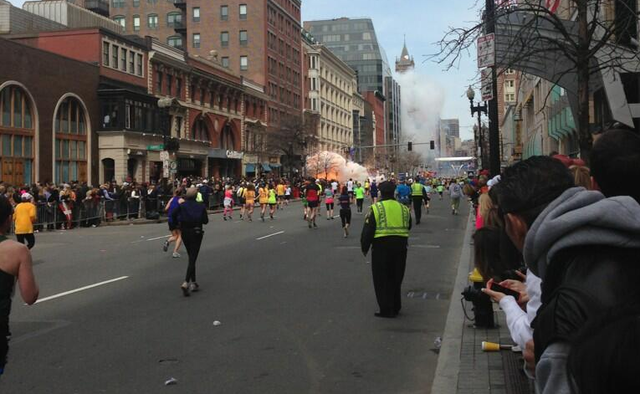 Photo credit  Dan Lampariello
Are you getting more than 14¢ of value per day from ITS Tactical?
Please consider joining our Crew Leader Membership and our growing community of supporters.

At ITS Tactical we're working hard every day to provide different methods, ideas and knowledge that could one day save your life. Instead of simply asking for your support with donations, we've developed a membership to allow our readers to support what we do and allow us to give you back something in return.

For less than 14¢ a day you can help contribute directly to our content, and join our growing community of supporters who have directly influenced what we've been able to accomplish and where we're headed.