LaCie XtremKey All-Terrain Flash Drive
An awesome new product we've just recently come across is the LaCie XtremKey, which boasts an impressive array of features and resistance to heat, cold, water, pressure and dropping.
We were recently able to source one of these, despite the lack of stock hitting the market and look forward to bringing you an in-depth review after we've had a chance to beat up on it. While we won't see if it blends, we have some testing in mind to see how the drive performs in the elements.
The LaCie XtremKey features capacities up to 64GB with an "impenetrable shell," that can apparently withstand the pressure of a 10-ton truck!
Here are the additional features and specs on the XtremKey from LaCie:
Features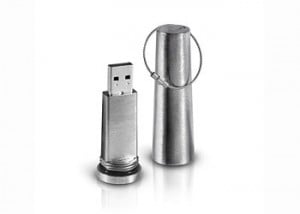 The XtremKey is constructed with zamac, a metal alloy composed of zinc, aluminum, magnesium and copper that provides it's strong impenetrable shell. The memory modules are shielded inside of a 2mm casing and sealed with wear-resistant screw threads and a rubber O-ring, which makes it waterproof up to 100 meters.
In addition, it's resistant to 5-meter drops (5 times at 5 meters), fierce heat (3 minutes at 200 °C without flame) and bitter cold (12 hours at -50 ° C)–it holds up in any environment, no matter where you take it.
Equipped with the Hi-Speed USB 2.0 interface, the LaCie XtremKey offers instant compatibility, outstanding transfer speeds and cross-platform convenience to all PC and Mac ® users. With speeds up to 30MB/s (write) and 40MB/s (read), you don't have to sacrifice performance for protection.
One things for sure, these drives aren't cheap! They're available in 8, 16, 32 and 64GB with the latter running as high as $249.99 retail. They seem to be out of stock on the LaCie Website, but are available for pre-order at Amazon.
Stay tuned for our hands-on review!
Are you getting more than 14¢ of value per day from ITS Tactical?
Please consider joining our Crew Leader Membership and our growing community of supporters.
At ITS Tactical we're working hard every day to provide different methods, ideas and knowledge that could one day save your life. Instead of simply asking for your support with donations, we've developed a membership to allow our readers to support what we do and allow us to give you back something in return.
For less than 14¢ a day you can help contribute directly to our content, and join our growing community of supporters who have directly influenced what we've been able to accomplish and where we're headed.