4Sevens Redefines the Budget EDC Flashlight
The market is saturated with flashlight brands, each trying to carve out their own niche or specialty. 4Sevens is relatively new to the marketplace, showing up only three years ago.
It's easy to get lost in marketing speak, but 4Sevens' slogan, Redefining the Flashlightâ"¢, is so far an accurate description of many of their products. I bought my first 4Sevens flashlight, their Quark 1232 Turbo ($75 retail), back in April of this year. Since then, I've purchased three different 4Sevens models.
Recently, 4Sevens introduced a remarkable new light, the Quark MiNi AA2 ($43 retail).
Features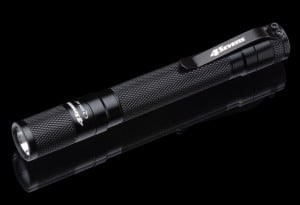 What makes this flashlight so unique? How about the fact that this is a 1 ounce device that emits 180 OTF lumens from a pair of AA batteries using a CREE XP-G R5 LED!
The Quark MiNi AA2 is constructed with an optical-grade glass lens with an anti-reflective coating on both sides, surrounded by a type-III hard-anodized aircraft-grade aluminum body. It comes with a lanyard, spare O-ring, two Duracell AA batteries, and the instruction manual. The flashlight has enough knurling to offer a decent grip, regardless of whether the hand is naked or gloved.
Pocket Carry
I purchased the Quark MiNi AA2 to replace my Preon 2 ($65 retail). The Preon 2 served me well, but the Quark MiNi AA2 solves one critical design flaw. I carry my light clipped on my tactical pants pocket, and the push button atop the Preon 2 was too often bumped. I always knew when this happened because my leg would start to get warm — the Preon's 160 lumens generated a moderate amount of heat at the tip of the light! I've just finished carrying the Quark MiNi AA2 for two weeks during a field exercise, and the light didn't have a single accidental discharge — a vast improvement over the Preon 2.
The Quark MiNi AA2 has a deep-carry pocket clip, which has just the right tension for a shirt or pants pocket.
Dimensions
The Quark MiNi AA2 is a tad bit fatter in diameter than the Preon 2: 0.7 inches versus 0.55 inches. It's also slightly shorter, at 5 inches, and weighs in at 1 ounce.
Modes
The flashlight offers the user seven different light output modes:
Low (3 lumens)
Medium (36 lumens)
High (180 lumens)
Strobe
S.O.S
Beacon (Hi)
Beacon (Lo)
Rotating the flashlight through the output modes is very straightforward. Approximately a quarter twist of the head to the right turns on the light. (The head actually feels tight, as it in won't rotate right any further.) Then quickly twist it a quarter twist back to the left (turning the light off momentarily), followed by immediately twist the head back a quarter twist to the right. You've now entered the next mode.
The engineers have thought the sequence of the seven modes through, starting with the lowest light output level first, getting brighter with each step. This is useful if you've already established your night vision and just need to reference a map with the perfectly fitted 3 lumens low output mode. Likewise, if you're looking for the small BNC adapter for an antenna that you dropped into the tall grass, the bright mode's 180 lumens lights the area up brilliantly. To reset the mode counter and restart at the beginning of the cycle, leave the flashlight turned off for about 2 seconds.
Waterproof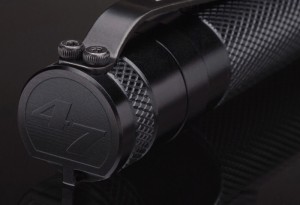 The Quark MiNi AA2 has an IPX-8 waterproof rating, meaning it can operate flawlessly completely submerged in "water under conditions which are identified by the manufacturer."
I don't anticipate ever using a pocket flashlight as a dive light, and while I can attest that the light worked great during a recent downpour on the east coast (sadly better than my shell, which apparently unbeknownst to me was cut while crawling around an armored Humvee), I wouldn't go around shoving the light deep under water.
Battery Life
The specifications state that the flashlight will run 1.7 hours in the high output mode. My test run 1 hour and 51 minutes on a new pair of Duracell AA batteries — just slightly longer than the advertised 1.7 hours. I wasn't motivated enough to verify that the low mode lasts 3.4 days!
Notes
If you're in the market for an EDC pocket flashlight, the Quark MiNi AA2 delivers significant value for $43 and is worthy of making your short list. If you intend on carrying the light in your pocket, this is a far superior choice to the 4Sevens Preon 2.
Are you getting more than 14¢ of value per day from ITS Tactical?
Please consider joining our Crew Leader Membership and our growing community of supporters.
At ITS Tactical we're working hard every day to provide different methods, ideas and knowledge that could one day save your life. Instead of simply asking for your support with donations, we've developed a membership to allow our readers to support what we do and allow us to give you back something in return.
For less than 14¢ a day you can help contribute directly to our content, and join our growing community of supporters who have directly influenced what we've been able to accomplish and where we're headed.