Natick Officially Releases Camo Study Images
Soldier Systems has just gone live with the post we've all been waiting for on this camouflage conundrum.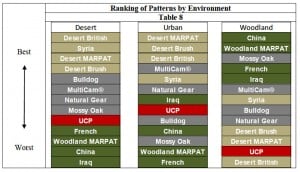 The Natick camo study (2007-2009) results have finally been *officially* released to the press, and are interesting to say the least.
Update: Here's a link to the entire Natick Photosimulation Camouflage Detection Test
Natick testers have released a chart showing how the patterns rank by environment.
If you've been wondering, as we have, what Desert Brush Camo and Syrian Camo truly look like, here are the Natick test images.
Rep. John Murtha, D-Pa., chairman of the House Appropriations Subcommittee on Defense, gave the Army until Sept. 30 to find a new camo pattern to replace the ineffective UCP. As reported earlier, the Army will soon pit UCP "Delta" against Crye Multicam in an attempt to find a solution.
Natick is the U.S. Army Soldier Systems Center (SSC), located in Natick, Massachusetts. it's the Army's one-stop Soldier-support organization  responsible for researching, developing, fielding, and managing food, clothing, shelters, airdrop systems, and Soldier support items.
Are you getting more than 14¢ of value per day from ITS Tactical?
Please consider joining our Crew Leader Membership and our growing community of supporters.
At ITS Tactical we're working hard every day to provide different methods, ideas and knowledge that could one day save your life. Instead of simply asking for your support with donations, we've developed a membership to allow our readers to support what we do and allow us to give you back something in return.
For less than 14¢ a day you can help contribute directly to our content, and join our growing community of supporters who have directly influenced what we've been able to accomplish and where we're headed.