Mystery Ranch Innovates Avalanche Safety with the Blackjack
I wanted to draw your attention today to a new pack that Mystery Ranch is unveiling at next year's Winter OR (Outdoor Retailer) called the Blackjack.
The Blackjack features a removable airbag system to protect you in the event of an avalanche. While this is a specialized product and not the first avalanche airbag system to hit the market, Mystery Ranch has approached their design with the end-user in mind.
The theory behind an avalanche airbag is to keep the victim at the top by increasing their overall volume, thus equalizing volume and density (Law of Inverse Particles). Meaning that larger objects will "float" to the surface in an avalanche due to the larger signature, decreasing your chance of becoming buried.
Features
Mystery Ranch has integrated AVI Vest airbag system technology into the Blackjack and thrown their hand into the airbag backpack market with the first removable airbag pack that we know of. Currently several European companies manufacture these packs along with BCA (Back Country Access) and their Float 30 pack they unveiled at the 2009 OR.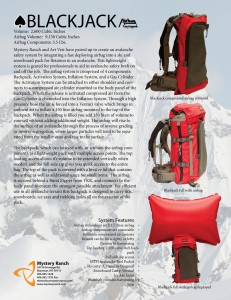 Here's what the Blackjack is bringing into the mix:
Top-loading 2600 cubic inch pack
Full side zip access
150 liter removable airbag
Refillable compressed air canister
Custom fit through MR Futura yoke
Release set for righty or lefty
(ATP) Avalanche Tool Pocket
Ski Carry: A frame or Diagonal
Snowboard Carry: Vertical
Ice Axe Loops
Leg Loops built into waistband
The Blackjack's weight is approximately 8 lbs. overall, with the airbag system taking up about 3.5 lbs. of that. Retail will be around $900 when it's released next year.
I'm not sure of the exact cylinder refilling method that the Blackjack will incorporate, but according to AVI their cylinders require being sent in to refill. I'd hope that the Blackjack will integrate a user-refillable cartridge system. Either that or an inexpensive CO2 cartridge system like life vests use, although honestly I'm not sure if those would provide the volume needed to fill the Blackjack's airbag.
The Blackjack is meant to augment other avalanche tools at your disposal, not replace them. This isn't a substitute for a shovel, avalanche probe, beacon or a good helmet. It's been proven that these airbag systems save lives and should definitely be considered if you're back country hiking, climbing, skiing or around any avalanche conditions period.
Are you getting more than 14¢ of value per day from ITS Tactical?
Please consider joining our Crew Leader Membership and our growing community of supporters.
At ITS Tactical we're working hard every day to provide different methods, ideas and knowledge that could one day save your life. Instead of simply asking for your support with donations, we've developed a membership to allow our readers to support what we do and allow us to give you back something in return.
For less than 14¢ a day you can help contribute directly to our content, and join our growing community of supporters who have directly influenced what we've been able to accomplish and where we're headed.