The Claymore from Combat Flip Flops: Cool, Functional and Vintage Inspired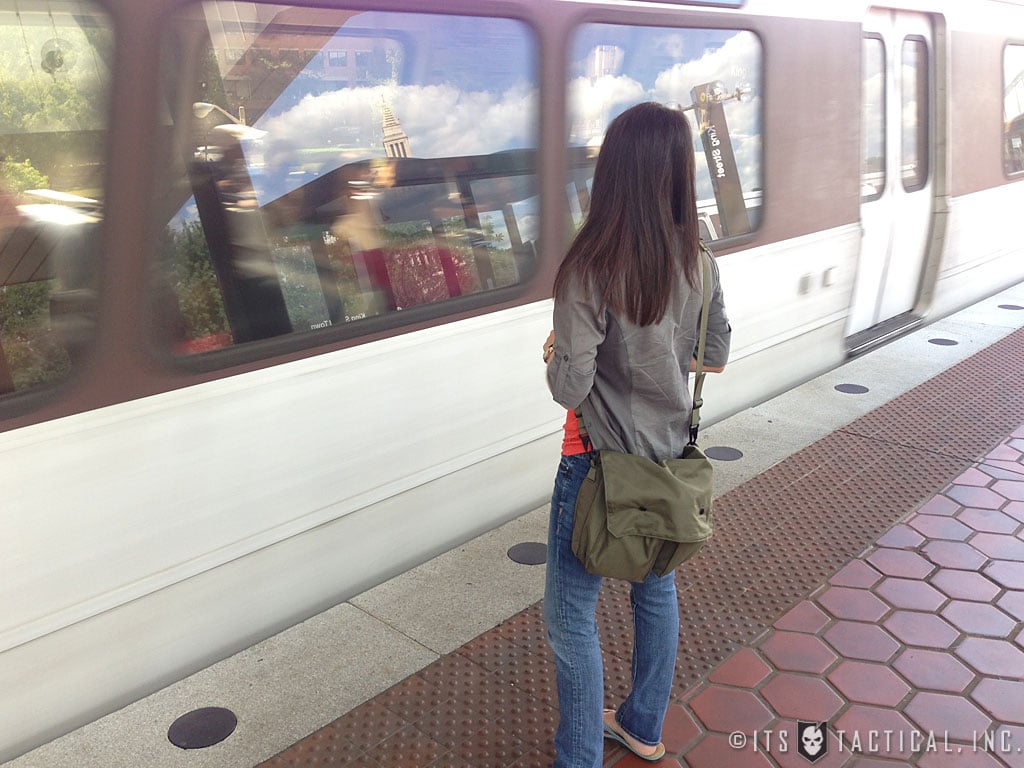 I've been in search of the perfect mini-messenger style bag for more than two years. Granted, one person's view of perfection is not the same as another person's view, but it's been my hope that I'd find a bag that at least has most of the features I've wanted.
Desired Features
What I've found to be most important when it comes to an every day carry-all bag is having room for my phone, keys, a small wallet, lipstick and mirror, a concealed carry pocket and space for an iPad or tablet. Preferably those items won't max out the bag causing it to look oddly shaped and the bag will still be relatively lightweight and comfortable to carry. Ideally, I'd also like to use the bag as a range bag because I'm not a fan of the boxy bags that scream "I probably have a gun and some ammo in here!"
The Claymore
Recently, Combat Flip Flops sent us their new bag, The Claymore, for review. I was excited to check out a new product from Combat Flip Flops because I've been so impressed with the Bombshell Light flops I purchased from them earlier this year. Their products are Made in the USA and have been bombproof for me so far. Plus, I thought that this could be THE bag for me.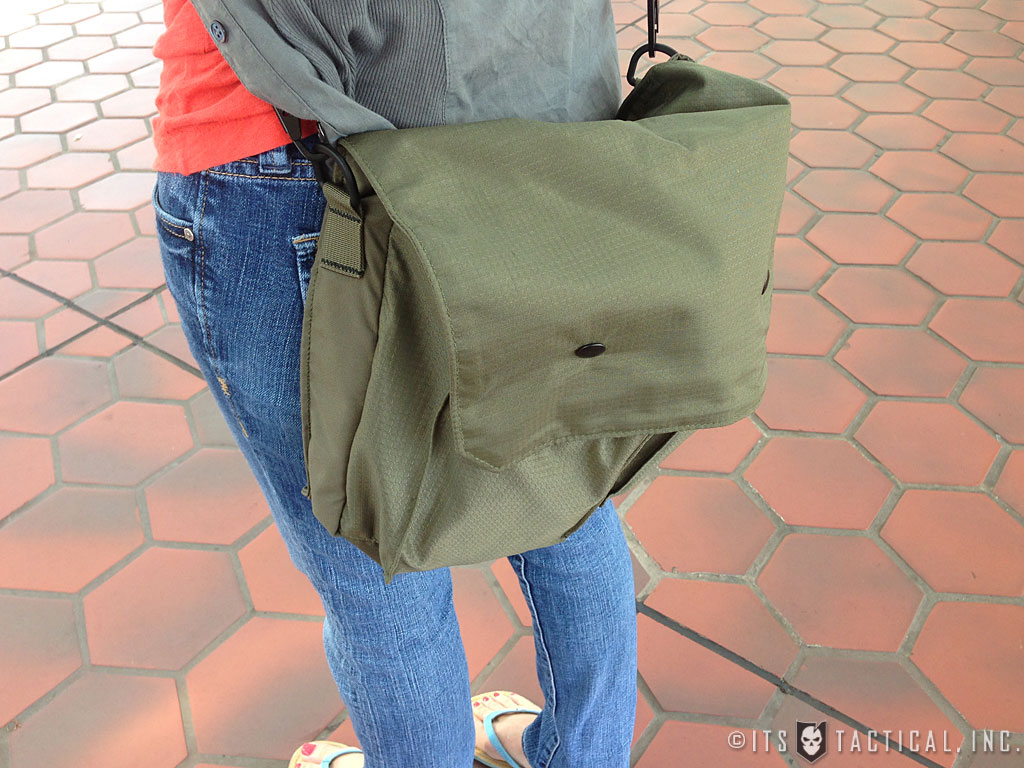 The timing was perfect; we were headed to a trade show which provided the perfect opportunity for me to put this satchel to work. I estimated this bag was the perfect size for me to comfortably carry all day long at the event. I also planned to carry The Claymore outside of the trade show just to see if it would work as an EDC type of mini-messenger bag.
Let me start with what I first thought of the bag when it arrived. I'm partial to shades of green used by the military, so I was immediately drawn to the Ranger Green color. The nylon fabric is lightweight and pretty soft with a subtle sheen. Some of the nylon bags I've carried in the past were made with such heavy duty nylon that the bag was abrasive against finer weight clothing and caused some of my shirts to pill. The Claymore material didn't seem like it would cause undue friction with anything I might wear.
Putting the Bag to Work
I began carrying The Claymore on the way to the airport as a shoulder bag. It was perfect as my "carry on" bag and held my book, headphones, a small knitting project bag, snacks and a boarding pass. I kept all of my other personal items in a small cross-body purse while I traveled. The bag was lightweight and super easy to maneuver through all of the security checks, boarding and deplaning. Being able to travel without bulky, cumbersome carry on bags makes dealing with air travel so much more enjoyable for me.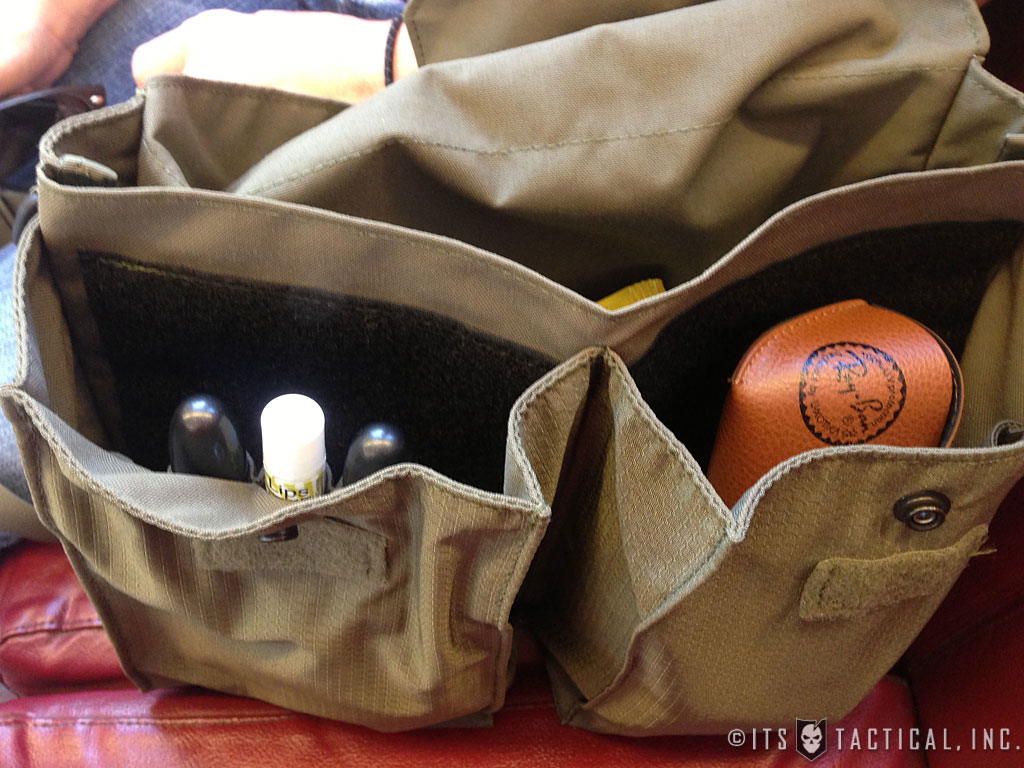 While we attended the trade show, I transferred my personal items from my purse to one of two the front, outer pockets utilizing the elastic daisy chain for my small flashlight, lipstick and pen. The other outer pocket held business cards, stickers, patches and other items I might need to access as we interacted with people. The main pocket is where I stashed a light jacket, paperwork and stuff we collected as the day wore on.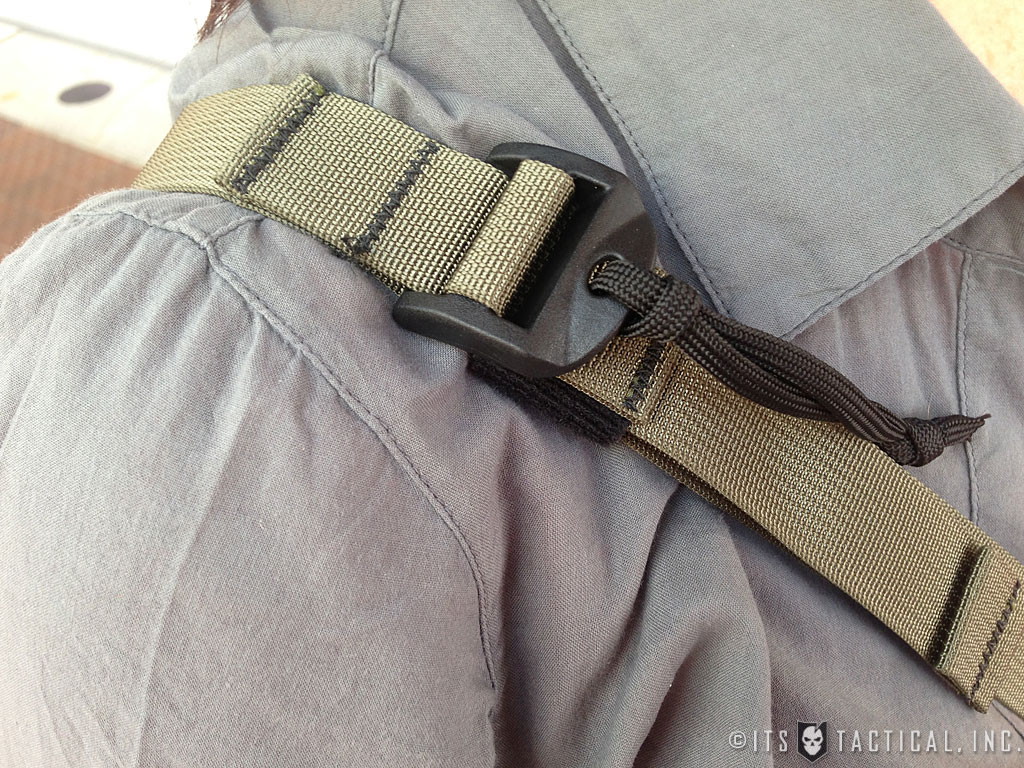 I wore the bag with the "2 Point Weapons Sling" style strap across my chest. The strap is an inch wide, so as my bag got heavier the strap became somewhat cumbersome. I kept trying to adjust the narrow strap for added comfort, but the adjustment mechanism on the strap consistently landed right on my collar bone making it pretty sore after awhile because of the weight I'd added to the bag. Wearing it as a cross-body bag with a lot of weight in it for the entire day definitely wasn't as comfy as I would have liked.
There were a couple of other things I didn't really care for when trying to carry it as a mini-messenger bag. The snaps on the main flap of The Claymore are sometimes really hard to unsnap. Granted, there are Velcro closures right below the snaps that I could've opted to use, but I was afraid of someone reaching into the bag and snagging my wallet if I didn't secure the pocket all the way.  The snaps definitely add to the vintage look of the bag and look really good, but I just didn't find that they provided the best functionality.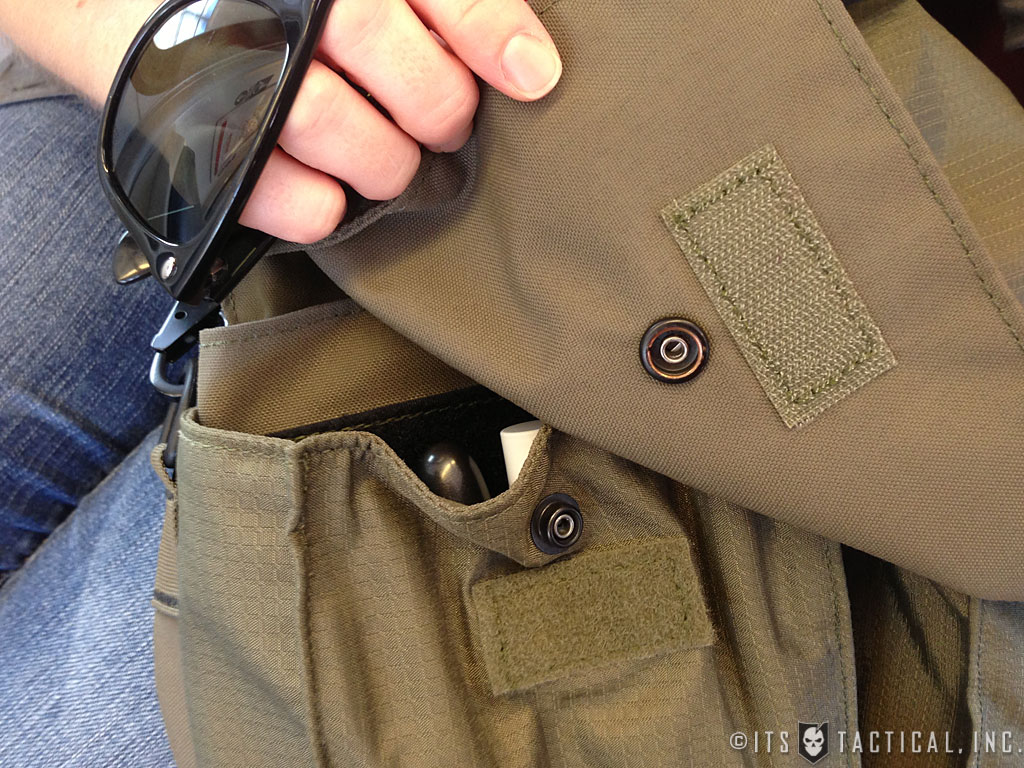 It may be helpful to point out that Combat Flip Flops notes on their Website that The Claymore features "3 point flap access" to the interior of the bag since it's constructed with a button (snap closure), hook and loop closure and Figher Design covert magnetic closures are included. The Figher mangnetic closures weren't provided with the bag we were sent for review so I can't offer an opinion on if those will help the bag to close more securely if the snaps are left unbuttoned.
The second day of the trade show, I carried The Claymore in the cross-body style again. I was comfortable with the bag for most of the day, but the strap became bothersome as I kept adding more weight to the bag. The snaps remained stubborn at times, but I continued to use them to keep the bag closed up as much as possible.
I found The Claymore to be much more comfortable to carry as a shoulder bag, even when loaded down with considerable weight. My hopes that this would be my new go-to mini-messenger bag were dashed.
Further Discovery
Once we got back to the office and I tried configuring the bag in other ways I realized that The Claymore was an option for me as a concealed carry bag. Since the front outer pockets are lined with Velcro loop, the ITS Holster Insert (Gen 2) fit perfectly inside the outer pocket. My Sig P238 concealed well inside the holster insert and didn't print through the bag at all. Out of curiosity I placed a Glock 17 Blue Gun in the holster insert to see the effect on the outer pocket and I couldn't see any indication the bag was concealing a firearm.
The main pocket has five Molle channels that can be used for additional inserts which provide numerous ways to store and carry necessities. According to the Combat Flip Flops Website, when you purchase The Claymore a sunglasses holder and smartphone holder come standard with the bag, but Combat Flip Flops also sells an iPad Mini holder that can be used in the interior pockets. These accessories weren't available at the time of my review, but are featured on the product page of their Website. More accessories may be available soon.
Why I Like It
Even though The Claymore didn't end up being my dream mini-messenger bag, I still really like it. It's a great size, its lightweight, the fabric it's made of is versatile for many styles of dress and the overall design allows a lot of flexibility in how the carrier can use it.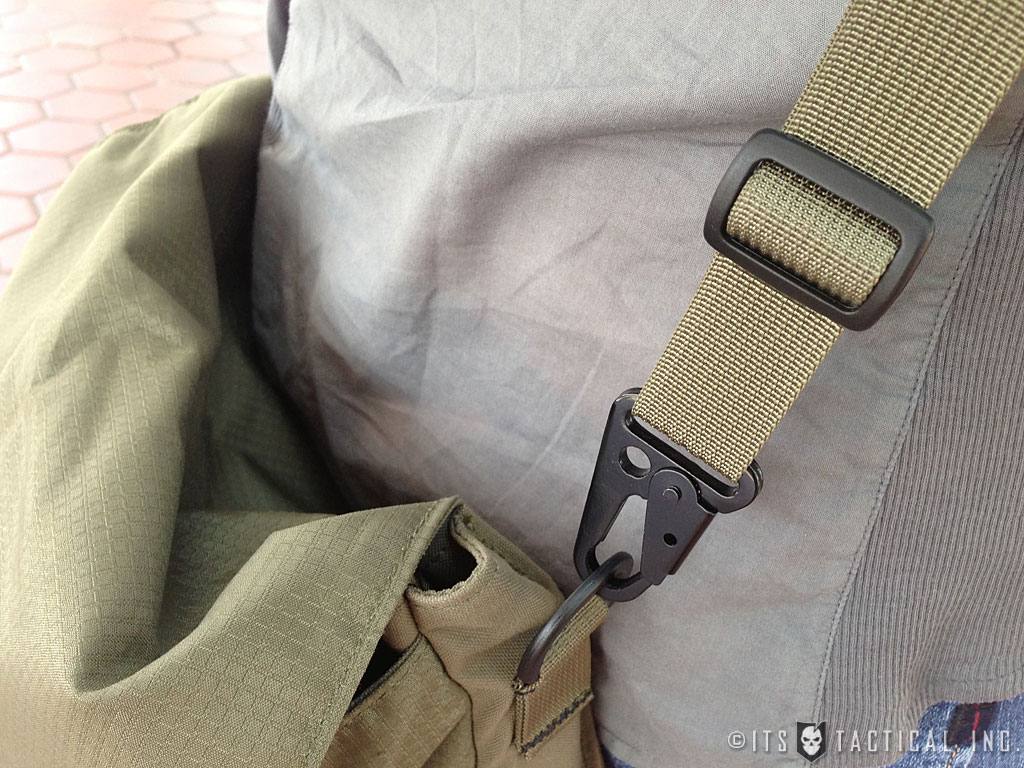 It worked very well for me as a travel bag and I'm confident it will also make a great range bag. The construction details and the quality of workmanship are awesome; it's also made in America. The bag is sleek and modern with that vintage inspired military look. After carrying it for about 40 hours through airports, a trade show and hauling it around like a tourist it still looks like it did when it first arrived.
The Claymore retails for $85.00 and can be purchased directly from Combat Flip Flops. More color options and accessories are advertised to be available soon.
Are you getting more than 14¢ of value per day from ITS Tactical?
Please consider joining our Crew Leader Membership and our growing community of supporters.
At ITS Tactical we're working hard every day to provide different methods, ideas and knowledge that could one day save your life. Instead of simply asking for your support with donations, we've developed a membership to allow our readers to support what we do and allow us to give you back something in return.
For less than 14¢ a day you can help contribute directly to our content, and join our growing community of supporters who have directly influenced what we've been able to accomplish and where we're headed.