Author and historian Stephen Pressfield has recently published a video blog called "War & Reality in Afghanistan."
Pressfield makes a remarkable comparison between Alexander the Great's Afghan campaign and our own war today, as well as offering unique insight into the underpinnings of this war on terror.
We've embedded the YouTube videos here so you can view all five episodes, but we'd encourage you to visit Pressfield's blog as well.
He has continued to update his blog posts quite frequently and offers some very insightful information within each and every post.
Pressfield's book, "Gates of Fire," is something we all here at ITS Tactical feel should be required reading for anyone interested in any kind of military special programs.
Are you getting more than 14¢ of value per day from ITS Tactical?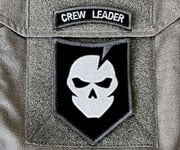 Please consider joining our Crew Leader Membership and our growing community of supporters.
At ITS Tactical we're working hard every day to provide different methods, ideas and knowledge that could one day save your life. Instead of simply asking for your support with donations, we've developed a membership to allow our readers to support what we do and allow us to give you back something in return.
For less than 14¢ a day you can help contribute directly to our content, and join our growing community of supporters who have directly influenced what we've been able to accomplish and where we're headed.