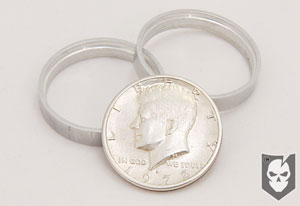 So you've got some secret information to pass to your contact, who's cleverly disguised as the friendly Hot Dog vendor outside of Home Depot…
How do you do it? Simple. Some cash, a Spy Coin and the uneasy feeling of indigestion.
Before we get into the review of the Spy Coins from www.spy-coins.com, let's look a little bit into their history.
History
During the Cold War, spies used hollow coins to pass secret messages, hide suicide poisons and smuggle microfilms without detection.
On May 1st, 1960 U2 Pilot Francis Gary Powers was shot down over the Soviet Union and taken captive. In his possession was a hollow silver dollar containing a poisoned needle that was to be used to take his own life in such a circumstance. For one reason or another, he did not use it and was held for 21 months by the Soviets.
He was then exchanged for Soviet spy KGB Colonel Vilyam Fisher (aka Rudolf Abel) at the Glienicke Bridge, in Berlin, Germany.
Colonel Fisher was also no stranger to hollow coins… his original capture by the United States FBI was directly related to a hollow nickel that was used to transport microfilm.
There's a great read about the Hollow Nickel Case on the USA FBI Website here.
Making a Spy Coin Hollow
The Spy Coins from Deru & Sons Mfg. are quality, through and through. They start with two authentic US Mint coins for each Spy Coin produced, and precision machine them into the two halves that make up each Spy Coin.
Each Spy Coin comes with with two machined unlocking rings that are used to "open" the coin. This is done by inserting it, tails side down, into the beveled side of the ring and slamming it down to jar the tails side free.
The reason for including two rings (that we forgot to mention in the video) is so you can give one to your Hot Dog Spy buddy so he can open the passed information.
Concealed Information
The tails side of each larger coin, like the Kennedy Half Dollar, has an inner beveled section that keeps a MicroSD Card secure. What's that you say? A MicroSD Card can fit inside a coin? You bet, and you can now keep up to 32GB of information in your Spy Coin thanks to the new size that Samsung recently released.
While there is no beveled edge in the Spy Coin Nickel (the smallest diamater coin they make) it too conceals a MicroSD Card. Since we're talking about the Nickel, here's a interesting tip on the unlocking rings that are included.
The size just happens to be able to fit on some wedding ring fingers, so you could be walking around with a Spy Coin Nickel in your pocket, and the unlocking ring on your ring finger, and no one would be the slightest bit suspicious if you were shaken down down by the opposition.
How to Get Yours
The Spy Coins available from spy-coins.com come in various denominations, and you have the option of buying them with or without a MicroSD card.
There's a Quarter, Any State Quarter, Half Dollar, Nickel, Ike Dollar, Euro Half Dollar, Pound and even a Silver Eagle, although I don't know why you'd want to ruin a good Silver Eagle in this economy. That's something a mugger would surely take from your pocket!
Be sure to check out the Radiopacity images when visiting Spy Coins, it's neat to see the difference between a real Nickel and a hollow one!
Notes
These coins are virtually indistinguishable visually, and only to the trained eye would you notice the cut line on the tails side. A giveaway to these coins is the flip test though.
They definitely have a hollow sound to them when being flipped, jingled with other change, or if handled a certain way.
Definitely an awesome tool in the right situations, especially from an EDC perspective. It's great peace of mind knowing that your data is hidden away in your pocket full of change. Just don't spend it!!
Are you getting more than 14¢ of value per day from ITS Tactical?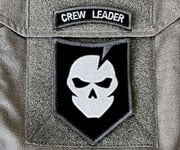 Please consider joining our Crew Leader Membership and our growing community of supporters.
At ITS Tactical we're working hard every day to provide different methods, ideas and knowledge that could one day save your life. Instead of simply asking for your support with donations, we've developed a membership to allow our readers to support what we do and allow us to give you back something in return.
For less than 14¢ a day you can help contribute directly to our content, and join our growing community of supporters who have directly influenced what we've been able to accomplish and where we're headed.