ITS Shop
Payment Accepted:

DUNS #967358958
CAGE CODE 6DCH4
5.1.11 Prevail Morale Patch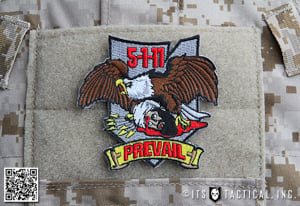 In Stock
Add to Cart
The 5.1.11 Prevail Patch directly benefits America's Mighty Warriors, founded by Debbie Lee mother of Marc Lee, the first SEAL killed in Iraq.
These custom 100% embroidery patches measure 3.3″ wide x 3.5″ tall and feature our logo shield and Prevail banner, an Eagle and of course Osama Bin Laden's head with a bullet hole courtesy of Marc's fellow SEALs from Team 6. Commemorate May, 1st 2011 and help support America's Mighty Warriors; a portion of the proceeds from the sale of this patch will go directly to AMW!
Patches have a velcro backing to stick them wherever you'd like! The velcro can also be removed with a seam ripper if you'd like to sew them on.