ITS Shop
Payment Accepted:

DUNS #967358958
CAGE CODE 6DCH4
Baboon Ass Morale Patch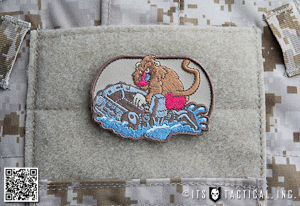 In Stock
Add to Cart
The term Baboon Ass is a Navy term for the red, swollen ass you get during a long transition on a Zodiac F470 bouncing off the tubes. The Z-Bird is a truly unforgiving creature and a long inflatable boat ride can leave you feeling it for days!.
These custom patches measure roughly 4″ wide x 4.5″ tall and feature a velcro backing to stick them wherever you'd like! The velcro can also be removed with a seam ripper if you'd like to sew them on.