ITS Shop
Payment Accepted:

DUNS #967358958
CAGE CODE 6DCH4
Bogota Entry Toolset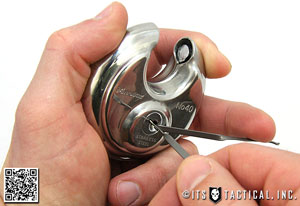 In Stock
Available in Stainless Steel or Titanium, these hand-crafted tools have been used by many locksmiths and covert entry specialists.
Due to the highly polished finish, these tools glide through the lock but are NOT for the heavy handed user. The handle end of each piece doubles as a tension wrench, so you only need to carry these two tools to be prepared to open nearly any pin-tumbler or wafer lock you encounter.
The Stainless Steel version of the Bogota Entry Toolset provides a corrosion-resistant option to counter sweat and those in a maritime environment. Not to mention the hygienic properties, long term durability and inherent strength of Stainless Steel.
The largest benefit of the aircraft-grade Titanium Bogota Entry Toolset is its inherent lack of a magnetic signature. While you're not going to feel the difference between a tenth of an ounce in a pocket, but there are those that need non-magnetic tools, specifically EOD and those that know who they are.
Aircraft-grade Titanium is as strong as it gets, there's a reason it's used in the aerospace industry. Titanium is extremely corrosion resistant, more so than the Stainless, but they'll still bend just like the other versions if man handled.
Made in the USA!
For further detailed information, please view the following articles, photos and video: