ITS Shop
Payment Accepted:

DUNS #967358958
CAGE CODE 6DCH4
Border Book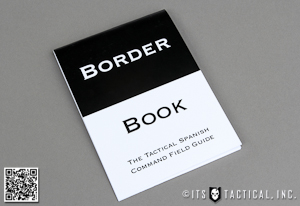 In Stock
Add to Cart
The Border Book is a pocket-sized 4″ x 5.5″ field guide that focuses on the Spanish you'll need to know to protect yourself and teaches English speakers to clearly communicate with uneducated or educated Spanish speakers.
In a Military or Law Enforcement application, it teaches you Spanish words and phrases in English that you can use to control your suspect, which creates a safe environment by opening an avenue of communication for people that don't speak each others language.
The 20-page Border Book includes the Spanish Alphabet, Colors, Interrogatives, Commands, a Phonetic Guide, Tactical Commands, Low Risk / High Risk Commands, Removal of Suspects from Vehicles, Kneeling Searches, Security Screens, Security ID Checks, Interviews, Vehicle Descriptions, Personal Identification, Body Parts, Spanish Numbers, Major Interstate Gangs & Identification, as well as an area for your own notes.
This book is in service with Border Patrol Agents, including Hispanic Border Patrol Agents, because it's been found to be better than the material they have in the Border Patrol. It's also in use by Special Operations LRRP Officers operating deep inside Mexico.
Printed in the USA!