ITS Shop
Payment Accepted:

DUNS #967358958
CAGE CODE 6DCH4
CRKT ParaSaw Paracord Bracelet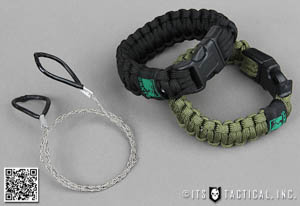 In Stock
Bringing you a unique Paracord Bracelet design, these CRKT ParaSaw Bracelets feature a hidden Tungsten Carbide Wire Saw woven into each bracelet.
When unwoven, each bracelet gives you around 12 ft. of paracord (large size) and a Tungsten Carbide Wire Saw with coated loop handles to cut through small tree limbs. When untying the bracelet, you'll expose the protective wrapped wire saw inside. Simply remove the protective cover and it's ready to use!
Bracelets are available in Large (8″ interior bracelet dimension) and Small (7.5″ interior bracelet dimension) in either Black or OD Green.
Details
Available in Large (8″ interior dimension) or Small (7.5″ interior dimension)
Available in Black or OD Green in both Large and Small
Large Size Bracelet Contains 11.8′ of Paracord when Unwoven
Small Size Bracelet Contains 9.8′ of Paracord when Unwoven
Tungsten Carbide Wire Saw measures 18.5″ (470 mm)
Weight: 9.0 oz.
Designed by Ken Onion and manufactured by CRKT
If you need to adjust the bracelet or retie it, follow our standard Paracord Bracelet Instructions here or to retie it in a quick-release configuration, visit our tutorial here.