ITS Shop
Payment Accepted:

DUNS #967358958
CAGE CODE 6DCH4
ITS 300 Gelaskin (iPad 2)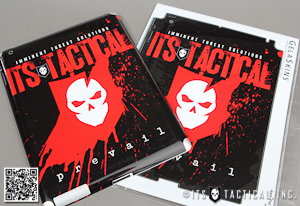 In Stock
Add to Cart
We're excited to release the first ITS Tactical GelaSkin! Featuring our 300 inspired artwork and designed to fit the iPad 2. These are NOT designed to fit the original iPad.
GelaSkins are thin, laminated vinyl decals designed as scratch protection from everyday wear and tear. The 3M adhesive is repositionable, and won't leave any residue when you choose to remove it. GelaSkins are not cases, they are skins.
Although 3M has created this adhesive to be re-positionable and removable, it is not designed to be re-used. GelaSkins has had many customers report that they've reused their GelaSkins with great success! If you want to try, they recommend you store the GelaSkin on the protective backing it comes on, and pressed flat (such as under a book).
Made in Canada exclusively for ITS Tactical!