ITS Shop
Payment Accepted:

DUNS #967358958
CAGE CODE 6DCH4
ITS Cat Eye Morale Patch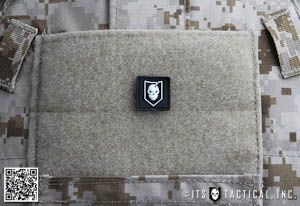 In Stock
Add to Cart
Cat Eyes traditionally hail from certain branches of the military utilizing glowing or reflective strips to help identify friend from foe.
Our friends at Triple Aught Design have been producing their own Cat Eyes, dubbed as Ranger Eyes, for some time now. You'll find  much of their clothing features a small loop rectangle to attach a Ranger Eye to.
Cat Eyes are typically seen in the military in sets of two and TAD's hoodies even feature two of their loop rectangles to stay true to form. With support from Triple Aught Design, we've created our own ITS Cat Eyes out of PVC that feature a Glow-In-The-Dark ITS Logo Shield on a black 3/4″ x 3/4″ rounded-edge and velcro-backed patch.
Using a flashlight or exposing ITS Cat Eyes to a light source, will help keep them glowing and let your friends distinguish you from foe!
Made in the USA!