ITS Shop
Payment Accepted:

DUNS #967358958
CAGE CODE 6DCH4
ITS Discreet Messenger Bag Padded Insert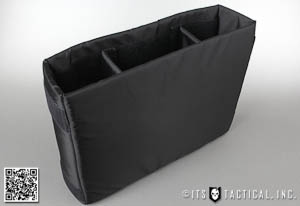 In Stock
Add to Cart
We've finally produced a way for you to protect your fragile equipment in our ITS Discreet Messenger Bag!
Perfectly sized to hook into the large loop strip running down the interior of each side of our Discreet Messenger Bags, the padded insert features adjustable vertical dividers to accommodate many different sized items. Breaking the hook and loop on each insert will enable you to move them horizontally along the interior 2″ loop strips affixed to each long side of the bag.
From cameras, lenses and night vision, the padded insert will help protect what you need it to. Sewn with the same packcloth featured on the interior of our bags, the 14″ wide x 3.5″ deep x 11″ tall padded insert is perfectly sized to fit the interior compartment, but expand as needed. Provided the insert doesn't get overfilled, there's still plenty of room for the laptop compartment and the concealed carry pocket to be utilized and remain accessible.