ITS Shop
Payment Accepted:

DUNS #967358958
CAGE CODE 6DCH4
ITS Embossed Field Notes – Traveling Salesman Edition (Set of 3)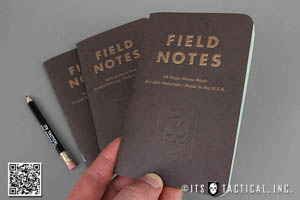 Add to Cart
From the same great company as our original ITS Stamped Field Notes Memo Books, we bring you the special limited-edition Traveling Salesman Field Notes!
This set of three 3 1/2″ x 5 1/2″ memo books each have an ITS embossed logo shield on the brown cover and 48-pages of "eye-ease" green paper, featuring ruled, ledger-style paper printed in green and red. Perfect for keeping track of miles, sales, costs, inventories and lists of all kinds.
We've also included an ITS golf pencil with each three-pack so you'll always have something to jot your notes down with.
Proudly printed and manufactured with durable materials in the USA.
Also check out the ITS Embossed Waterproof Expedition Special Editions here while they last!