ITS Shop
Payment Accepted:

DUNS #967358958
CAGE CODE 6DCH4
ITS Grow A Pair Morale Patch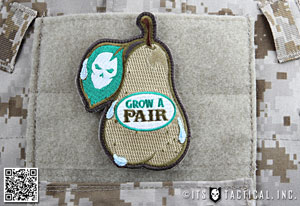 In Stock
Add to Cart
Our Grow a Pair Morale Patch has been on our list to create for some time now. While a little vulgar if you get the references, these are great to give to friends who need to grow a pair.
Each patch measures 3.25″ wide by 4″ tall and features a velcro backing to stick them wherever you'd like. The velcro can also be removed with a seam ripper if you'd like to sew them on.