ITS Shop
Payment Accepted:

DUNS #967358958
CAGE CODE 6DCH4
ITS Holster Insert Gen 2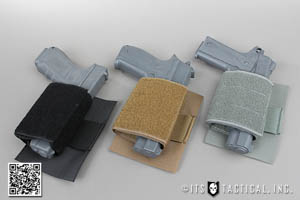 In Stock
The ITS Tactical Gen 2 Holster Insert was designed to create a lightweight low-profile holster insert for the concealed carry pocket of our Discreet Messenger Bag. The Gen 2 features a redesigned closure system that is wider and mitigates any chance of interfering with your draw.
Inside the 4″ tall closure (which measures 11″ wide opened up), you'll find hook velcro which not only ensures a positive closure on most full-frame pistols (including Sigs, Glocks and 1911s), but aids in quick access with no hang ups. Attached to the 6″ x 4″ hook velcro backer is elastic retention to additionally carry a single pistol magazine.
As the pocket wall of our concealed carry pocket is reinforced with an HDPE sheet for rigidity, the Holster Insert hook velcro backing was left flexible for weight reduction.
Features
Lightweight and Low-Profile
Hook and Loop Closure
Fits Most Full-Frame Pistols
Available in Black, Coyote Brown and Foliage
Handmade by Zulu Nylon Gear in the USA