ITS Shop
Payment Accepted:

DUNS #967358958
CAGE CODE 6DCH4
ITS Liberty Bottle – We The People Edition (32 oz.)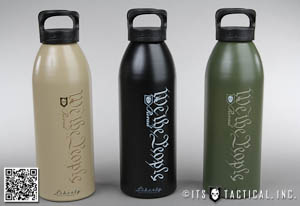 In Stock
The ITS Tactical We The People Liberty Bottle features a unique cylindrical digital printing and clear coat protectant to keep the awesome graphics looking good!
Featuring a raised "We The People" and our motto here at ITS, "Prevail," these aluminum Liberty Bottles are available in Black, Tan and for the first time on an ITS Liberty Bottle, OD Green!
Be sure to check out our Threeper T-Shirts featuring our We The People graphics! We're now also offering replacement Liberty Bottle Caps in Black and Coyote! (The Coyote caps are only available individually at this time and do not come on our Tan bottles.)
Features
32 Ounces
Only American made metal bottle on the market
Produced by American workers in Yakima, Washington
100% BPA Free (non-toxic, non-leaching)
Made from recycled aluminum
Simple 1/4 turn on, 1/4 turn off cap design
Wide mouth
Flexible food grade coating
No heavy metal leaching (or taste)
No bacteria build-up
For detailed information check out our review of Liberty Bottles here: http://itstac.tc/mWKsSX