ITS Shop
Payment Accepted:

DUNS #967358958
CAGE CODE 6DCH4
ITS Memorial Bracelet (In Memory of Our Fallen)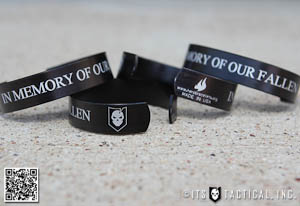 In Stock
Add to Cart
ITS Tactical has partnered with HeroBracelets to offer these black anodized aluminum memorial bracelets to honor all those who have given the ultimate sacrifice for our country and our way of life. $2 from the sale of each bracelet will be donated to the Intrepid Fallen Heroes Fund.
Each bracelet is made in the US and features the words "IN MEMORY OF OUR FALLEN" with the HeroBracelets.org logo and ITS Tactical logo on the reverse side. These will fit almost any size wrist with their inherent adjustable design.
Features
Laser Engraved Anodized Aluminum
Made in the USA
$2 From Each Bracelet is Donated to the Intrepid Fallen Heroes Fund