ITS Shop
Payment Accepted:

DUNS #967358958
CAGE CODE 6DCH4
ITS Microfiber Pack Towel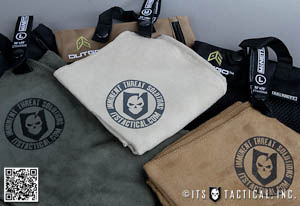 In Stock
The ITS Microfiber Pack Towel is a highly absorbent and quick drying towel that's perfect for the times you need a towel, but also need to save space!
This ultra-compact and lightweight towel weighs in at only 3.5/6 oz. (Med/Large) and can also be used as a blanket, bandana, cleaning wrap, medical towel, sling and much more.
These custom printed McNett Outgo Towels feature the ITS Circular Logo in the upper left corner. The included storage bag not only acts as a wet/dry bag, but the reverse side features a zippered pocket for your toiletries.
Features
Size Medium (Sand) – 20″ x 40″
Size Large (Coyote and OD Green) – 30″ x 50″
Hang Loop w/ Snap
Ultra Compact & Lightweight
Highly Absorbent & Quick Drying
Easy to Pack
Fits Comfortably Under a Hat or Helmet
Includes Wet/Dry Storage Bag w/ Two Zippered Compartments