ITS Shop
Payment Accepted:

DUNS #967358958
CAGE CODE 6DCH4
ITS Texas State Morale Patches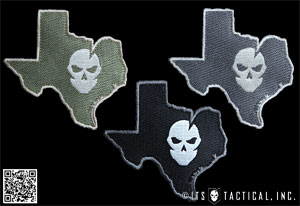 In Stock
Our Texas State Morale Patch has been a long time coming. We wanted a way to express our Texas roots here at ITS and couldn't think of a better way then a Texas patch!
If you look closely, you'll notice the notch that comes in from the top of the state points directly to where we're located at in Texas if you superimposed a Texas map on top of it.
These Texas State Morale Patches measure 3.5″ wide x 3.5″ tall and feature a velcro backing to stick them wherever you'd like! The velcro can also be removed with a seam ripper if you'd like to sew them on. These patches are available in Black/White/Grey, Tan/Grey and a MultiCam colorways.