ITS Shop
Payment Accepted:

DUNS #967358958
CAGE CODE 6DCH4
ITS Threeper T-Shirt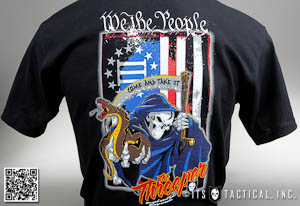 In Stock
Matt's thought process behind our Threeper T-Shirt:
The Threeper art came from the news, moreover the leftists branding those who have chosen to take the Gadsden flag as a symbol of our dissatisfaction of the Government encroaching more and more into our lives. This personally resonates with me, as do my convictions to the preservation of the Constitution and our 2nd Amendment rights, thus the motto "come and take it" on the blade of the Threeper's scythe. This is reminiscent of the flag flown in 1778 during the American Revolution at Fort Morris and later in 1835 during the Texas Revolution, as an expression of defiance to disarm.
In the Threeper's right hand is the rattlesnake, which is in representation of the Gadsden flag, it's outstretched in a manner to reflect the motto on the Threeper's scythe. The Nyberg flag hangs in the background and resonates the theme of the drawing. All encompassing what we as a people should stand up for, the preservation of the constitution, securing our Second Amendment rights. Trying to remove any of these under our watch would not be prudent, as the Threeper is symbolized as the grim reaper (threeper) with an ITS logo mouthless skull.
During the American Revolution, the active forces against the tyranny of the Crown never amounted to more than 3% of the colonials. They were in turn actively supported by roughly 10% of the population. In addition to these revolutionaries were another 20% who were in favor of their cause but did little or nothing to help. Today, the Nyberg Flag and the 3% represent the gun owners. History has shown that it can be made by a determined minority and we as gun owners are a minority in an ever growing fight to restrict our right to bear arms.
We The People, which can be seen on the front and back of the shirt represents who the Threeper is there to defend, our constitution. In small text underneath the main Threeper graphic on the back of the shirt reads "defense against imminent threats, both foreign and domestic." We also can't forget to mention our motto printed on the front, PREVAIL!
Details
Black Short-Sleeve 100% Preshrunk Cotton T's
Available in Adult Sizes Medium thru XXXL
Silk Screened by hand in the USA on made in the USA Port & Co. All-American Tees
Please click here to View our Sizing Chart