ITS Shop
Payment Accepted:

DUNS #967358958
CAGE CODE 6DCH4
Rigger's Rubber Bands (10 Pack)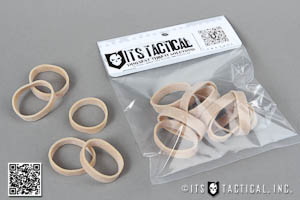 In Stock
Add to Cart
Rigger's Rubber Bands have been utilized by the skydiving community and the military for years. They're a quick and easy way to secure your gear and last much longer than regular rubber bands.
By definition, Rigger's Rubber Bands are used to hold parachute lines more securely than older methods. They're now recommend by most canopy manufacturers when packing a chute as well. It takes much longer for them to "rot" versus traditional rubber bands and while they will eventually, you'll get plenty of life out of them on your gear.
They're great for holding a tourniquet or strobe on your plate carrier shoulder strap and in most any situation. While we'll never be able to describe all the uses for Rigger's Rubber Bands, we're sure you'll come up with a few of your own.
Features
2″ length x 3/8″ width
Highest Quality Gum Rubber
10 Per Pack
Made in the USA
For further information, check out the following article: