ITS Shop
Payment Accepted:

DUNS #967358958
CAGE CODE 6DCH4
SOF Tactical Tourniquet – Wide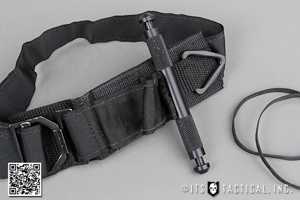 In Stock
Add to Cart
We're proud to offer what we feel is the best tourniquet on the market today to complement our ETA Trauma Kit, the Tactical Medical Solutions 1.5″ SOF Tactical Tourniquet.
The SOFTT-W is the result of an exhaustive 24 month research initiative compiling end-user research and laboratory studies to develop a more effective, easier to use tourniquet for all environments. High-strength, light-weight alloy components are used in critical areas of function ensuring reliability in the most challenging of circumstances and on the largest of limbs. With a true 1-1/2″ tourniquet strap and a quick-connect buckle that eliminates the need to ever re-thread the strap, application is faster and easier.
Features
True 1 1/2″ constricting band for increased constricting pressure and patient comfort
Quick-release, snap-lock buckle design, allowing rapid re-routing of the band around trapped limbs without rethreading
Lower-profile, lighter weight alloy components, providing the required strength and durability only metal can offer
Single application method regardless of location
25% lighter than the current SOF Tactical Tourniquet and reduced size for easier storage
Each tourniquet ships with two UV resistant black rubber bands for mounting to your kit
For further detailed information, please view the following article and photos