ITS Shop
Payment Accepted:

DUNS #967358958
CAGE CODE 6DCH4
Visible Tubular Practice Lock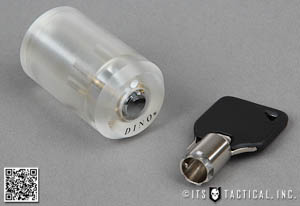 In Stock
We're excited to offer what we feel is the best way to practice your lock picking skills for tubular locks.
The Visible Tubular Practice Lock will enable you to see, as well as feel each pin move independently. Whether using regular picks or a dedicated tubular lock pick, knowing how a lock works both inside and out will not only help you improve your skills, but also to learn more about the illusion of security.
We offer two different versions of the Visible Tubular Practice Lock, Standard Pins and Spool Pins. The difference being that spool pins, sometimes referred to as security pins, are often put into a lock to "prevent" picking.
If you're familiar enough with how they operate, they do little more than slow someone down. Then again, all security is just about buying time. Picking a spool pin can produce a "false set," binding on the thinner middle section of the hourglass shaped pin. Standard pins are just that, the type of pins that are commonly found in most locks.
Each Visible Tubular Practice Lock comes with one correctly cut key to open the tubular lock. For more information on tubular locks and how they work, check out our article and video below.
For further detailed information, please view the following article: