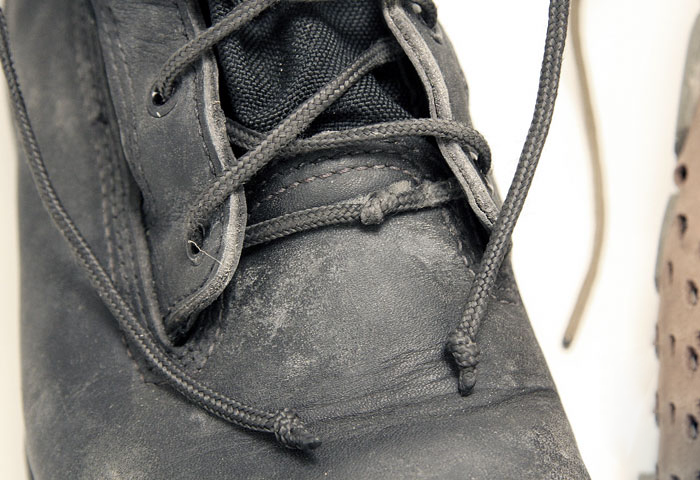 Tired of breaking bootlaces?  Replacing bootlaces with 550 cord is something many military personnel are taught as a remedy for broken bootlaces.
It's also very practical from a survival standpoint. 550 cord, Paracord or Parachute Cord has a multitude of uses in survival or escape and evasion scenarios due to the seven inner strands contained in Mil Spec 550 cord.
Suggestions
We recommend if you'll be around water that you gut, or remove the inner strands of the 550 to avoid the laces swelling and increasing the difficulty of removing your boots.
Some other tips on bootlaces are to match the ends up and place a simple overhand knot in the middle of the lace, which will act as a stopping point for the lace when threading it through.
Also the eyelets where your ankle bends can be skip laced to relieve pressure on your Achilles Tendon. See the attached YouTube video for a demonstration of skip lacing.
Finish the laces off with an overhand knot in each of the working ends, wrap the leftovers around your ankle, tie with a square knot (so the don't get sucked off in the mud) and tuck the excess lace in the top of the boots.
We've got an upcoming post where we'll show why you might just want to keep 550 in your shoelaces too… stay tuned!
Are you getting more than 14¢ of value per day from ITS Tactical?
Please consider joining our Crew Leader Membership and our growing community of supporters.
At ITS Tactical we're working hard every day to provide different methods, ideas and knowledge that could one day save your life. Instead of simply asking for your support with donations, we've developed a membership to allow our readers to support what we do and allow us to give you back something in return.
For less than 14¢ a day you can help contribute directly to our content, and join our growing community of supporters who have directly influenced what we've been able to accomplish and where we're headed.