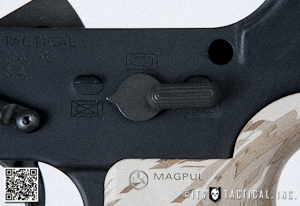 Today in part six of our DIY AR-15 Build you'll learn how to install an Ambidextrous Safety Selector and Pistol Grip in your Lower Receiver.
Ambi Safeties are definitely a personal preference and not for everyone. We're of the opinion that if having to transition to an off-handed shooting position, the ambi safety is a definite benefit.
The Pistol Grip we're using is the Magpul MOE Pistol Grip that's been coated in Desert Digital by our friends at CRC Hydrographics. They've also introduced a brand new rubberized clear coating we'll be talking about as well.
Continue reading for our step-by-step instructions for installing the Safety Selector and Pistol Grip with detailed photos and video.
{ 6 comments }