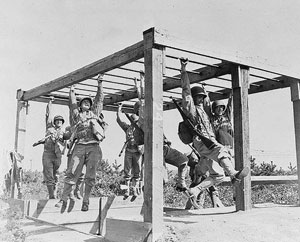 Editor-in-Chief's Note: This post was written by Brett and Kate McKay and originally ran onThe Art of Manliness. Have men these days "gone soft?" Is our generation less manly than past generations? Are we less tough than our grandfathers?
I see guys debate these kinds of questions all the time. Of course it's hard to quantify "toughness," but there is one area where we can definitively say we've slipped–the Army fitness test isn't as hard as it used to be.
The Army first introduced a formal fitness test to the troops in 1942. Millions of men were being called up to fight in World War II and not all of them were prepared for the rigors of combat. To get the men in fighting shape, the Army implemented a systematic physical development program as part of the Combat Basic Training course. The Army Ground Forces Test was designed to assess whether the program was having its desired effect. The test included squat jumps, sit-ups, pull-ups, push-ups, and a 300-yard run. The emphasis was on functional fitness and giving American GI's the strength, mobility, and endurance they would need to tackle real tasks on the battlefield.
In 1946, a Physical Training School was created at Fort Bragg with the mission of exploring how to take the goal of functional fitness farther. The training program developed at the school and the fitness test were codified in the 1946 edition of FM 21-20, the Army's physical training manual.
Basically, Grandpa was doing Cross-Fit before it was cool. [Read More…]
{ 8 comments }