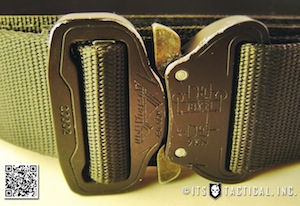 Today I'll be taking a look at the Jones Tactical 2″ FatZombie Duty Belt. The FatZombie is unique and is by far the best duty belt I've ever worn. My hope is that this article will help you make an informed decision if you decide to pull the trigger on a FatZombie.
I'll be the first to admit that until recently, I just dealt with the duty belt I was issued and didn't give it much thought. But like other equipment, there comes a time where it makes sense to switch to new material technology and design. If your agency is like mine, they go with the lowest bidder, which in our case is Uncle Mike's. Not to knock Uncle Mike's (they are made in the USA), but the belt I was issued 9 years ago was no different in material and technology than the Uncle Mike's belt I was issued as an MP in the Army 17 years ago.
I guess you could argue, "why change something that works?" For some people this is perfectly fine, but for those that are reading this, evolving with equipment and training is a way of life.
{ 25 comments }