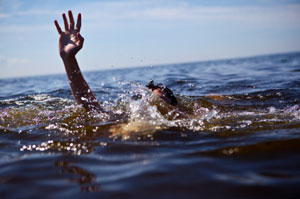 I was forwarded a great article in the Coast Guard's On Scene Magazine a few weeks ago by a friend, which went into drowning and the Instinctive Drowning Response. With Summer in full effect, I thought it appropriate to share with everyone here on ITS.
While we'll look at the signs of drowning below, it's important to note that it's not like the movies where people are screaming for help and violently splashing the water. It's often an undramatic event that doesn't resemble drowning at all.
My only encounters with drowning victims were during pool evolutions at BUD/s. These examples aren't really what you'd often see in a public setting, as these were men who were "red lining" (the instructor's terminology for someone passing out underwater) rather than giving on the evolution. Their signs were motionless and void of any struggling or screaming. They just simply passed out.
Being a Lifeguard for my son's Boy Scout Troop, I'm always staying up to date on my Lifeguard Certifications and CPR/First Aid through the Red Cross, but I've never been exposed to anything on the Instinctive Drowning Response and the specific signs associated with it.
{ 12 comments }