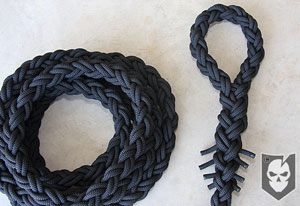 Today on our Knot of the Week, we're going to continue our Fast Rope construction with a demonstration of a 4-Strand Eye Splice.
On a previous KOTW we've shown how to create a 3-Strand Eye Splice, and while this may appear similar these are two very different techniques.
The Eye Splice is the strongest and safest method of terminating a Fast Rope (4-Strand Round Braid). It develops approximately 85% of the breaking strength of the line, which as we've mentioned is right around 28,000+ lbf (pound force) or 129 Kn (kilonewtons) with the 4 pairs of 7/16″ Blue Water Assaultline Static Rope used in construction.
An Eye Splice also enables the rope to be girth hitched onto a beam to climb. Traditionally in Military Fast Ropes, the eye splice is used to attach to the davits found on some helicopters. [Read More…]
{ 15 comments }