Suppressed no More: Silencers are Legal Website from Silencerco Debuts!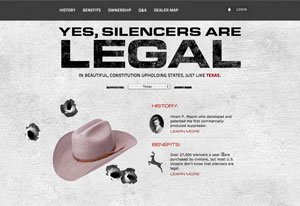 Yesterday, our friends over at Silencerco debuted a new website called Silencers are Legal and we're learning more and more as we keep browsing! The new site offers the FAQ's, benefits and history of silencer ownership. Another great feature utilizes a drop down list and large map to see if your state upholds the Constitution by allowing silencer ownership.
If you happen to live in a state that does not allow their law abiding citizens to own silencers,   Silencerco offers the "Get Involved" section which shows a list of your state's representatives with contact information so you can let them know you want the laws changed!
Silencerco also lists some great benefits to owning silencers including utilization in hunting, competition and home defense. So whether you're thinking about purchasing your first silencer, or you're looking to add a new one to the collection, be sure to check Silencerco's new site for fun and educational information about silencers. They even go through complete instructions on filling out those pesky ATF forms!
Are you getting more than 14¢ of value per day from ITS Tactical?
Please consider joining our Crew Leader Membership and our growing community of supporters.
At ITS Tactical we're working hard every day to provide different methods, ideas and knowledge that could one day save your life. Instead of simply asking for your support with donations, we've developed a membership to allow our readers to support what we do and allow us to give you back something in return.
For less than 14¢ a day you can help contribute directly to our content, and join our growing community of supporters who have directly influenced what we've been able to accomplish and where we're headed.