2nd Annual ITS Tactical Pumpkin Carving Contest Winners!
2nd Annual ITS Tactical Pumpkin Carving Contest Winners!
We had some UNBELIEVABLE entries this year in our 2nd Annual ITS Tactical Pumpkin Carving Contest! Thank you so much to everyone that submitted their entries and I wish there were more prizes to give out!!
Before we show you the winners, let me first say thank you again to all the awesome vendors that made this possible. We had some great prize packs this year and couldn't have done it without them!
A big thanks to Magnum Boots, HSGI, Zulu Nylon Gear, Impact Weapons Components and Lock-n-Load Java for contributing to our contest!
Winners
1st Place – Sam J. – Drop it Like ITS Hot! We liked Sam's idea so much we're thinking about it for a new T-Shirt design!
2nd Place – Jeremiah A. – Infidel ITS Logo – Pure awesomeness! Jeremiah nailed the logo and even got the font in there! The infidel text was a nice touch too!
3rd Place -Will C. – DigiCam ITS Logo – We've never seen this done before and looks fantastic! We loved the different levels of DigiCam in there!
There were so many great entries and we've certainly got a lot of talented people who read ITS! While we wish we had prizes for everyone, we had to narrow our choices down to three! Sam, Jeremiah and Will, an email has already been dispatched to you with instructions for claiming your prizes.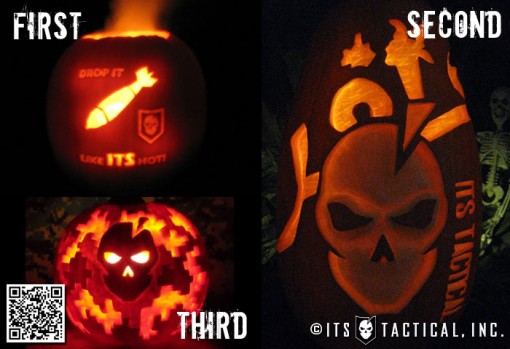 Runner-Up and Honorable Mentions
Since we liked so many other pumpkins, we decided to put out some prizes for a Runner-Up and Honorable Mentions. We'll also be sending an email to all of you so we can send you something to show our appreciation!
Runner-Up – Ken B. – Helicopter Rappelling – You rock Ken! That Prevail lighting up the wall is genious!!
Cody J. – POW/MIA – Outstanding detail and worthy of the POW/MIA logo for sure!
Cory P. – Headless Horseman – Killer idea to integrate the ITS logo on the Headless Horseman Cory!!
Robert W. – .40 Cal. – Love the simplicity Robert LOL!
Rob C. – Wounded Warrior – Great detail to hold that WWP Logo Rob!
Trenton E. – Zombie in Crosshairs holding ITS Logo – Nice carving Trenton! The ITS Logo looks great too!!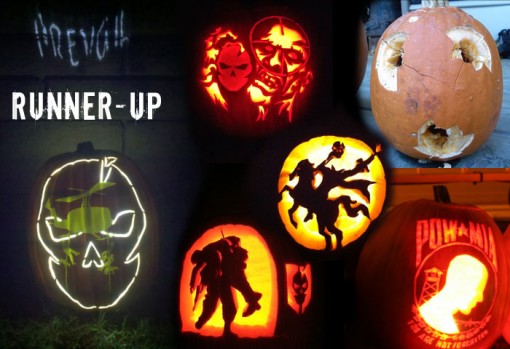 Thanks again to everyone who participated and took the time to send in their pumpkins, we've got a gallery below with every pumpkin we received! Have fun tonight and stay safe! We're already planning something even bigger for next year's contest!
[flickrset id="72157627895405081″ thumbnail="thumbnail" photos="" overlay="true" size="large"]