This post is in conjunction with the site article: Ten Essentials for a Summer Day Hike
My Gear List
Now that you know what bases you need to cover, here is an idea of what I personally bring on my day hikes. Again though, this varies based on weather conditions but imagine it's a typical summer day.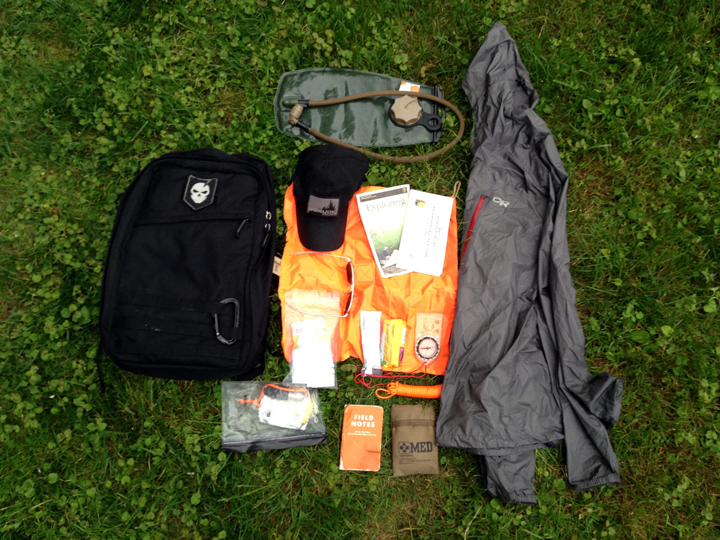 Bag
GORUCK GR1
Navigation
Suunto M-3D compass
Trail Map
Sun Protection
GORUCK TAC Hat
Randolph Engineering Aviators
Insulation
Outdoor Research Helium jacket
Illumination
SureFire Minimus
First Aid
Small kit in ziploc bag
EDC Trauma Kit
Fire
TAD Survival Spark
Tinder-Quik fire tabs
Repair
Micro roll of duct tape
15-20 feet of orange paracord
Food
Trail mix or energy bars
Water
3L Source Hydration bladder
Shelter
Nothing. I would find natural shelter or build my own.
Clothing
It's worth mentioning again that you should look for clothes that both breathe easily and wick moisture away from your body. Cotton is not a material that does that. Below is a list of what I've been wearing and really liking recently.
Shirt:
Outdoor Research Growler Shirt
. I really like this shirt because it's technical without looking like it is. Being a blend of nylon and polyester, it wicks moisture away and it breathes really well.
Pants:
Outdoor Research Treadway Convert Pants
. They're comfortable in material and movement and zip-off into shorts if things get hot. They also shed water well if you get caught in a sudden downpour.
Footwear and Socks:
This all depends on the trail. Some day hikes I go on only require running shoes and others are better suited for boots.
If I can get away with running shoes, I prefer a pair of
Balega
low cut socks. I just love how comfortable and cushioned they are.
When I wear my
Lowa Renegade
hiking boots, I'll go with a light or medium weight pair of
SmartWool PhD
socks.
Extras
Pocket Knife
Benchmade Mini Griptilian
Notebook and Pen
Field Notes Expedition Notebook
Pen Project
[space pen]
Signaling
MPIL
Survival Kit
Pocket Survival Pak Plus
What do you carry?