Here's my gear. It might seem like a lot to carry as first line EDC but it works well for me. I wear Blackhawk or Propper tactical cargo pants and the Maxpedition pocket organizers work really well in the cargo pockets. A lot of my gear is stowed in the pocket organizers. I'm passable at operating a sewing machine and I've done some modifications to my pants to make them work better. One of the most useful mods is sewing a few narrow pen/flashlight pockets into the rear pockets of the pants. The tactical pants aren't the most "grey man" option but I've been wearing them for years and they never seem to attrack any attention.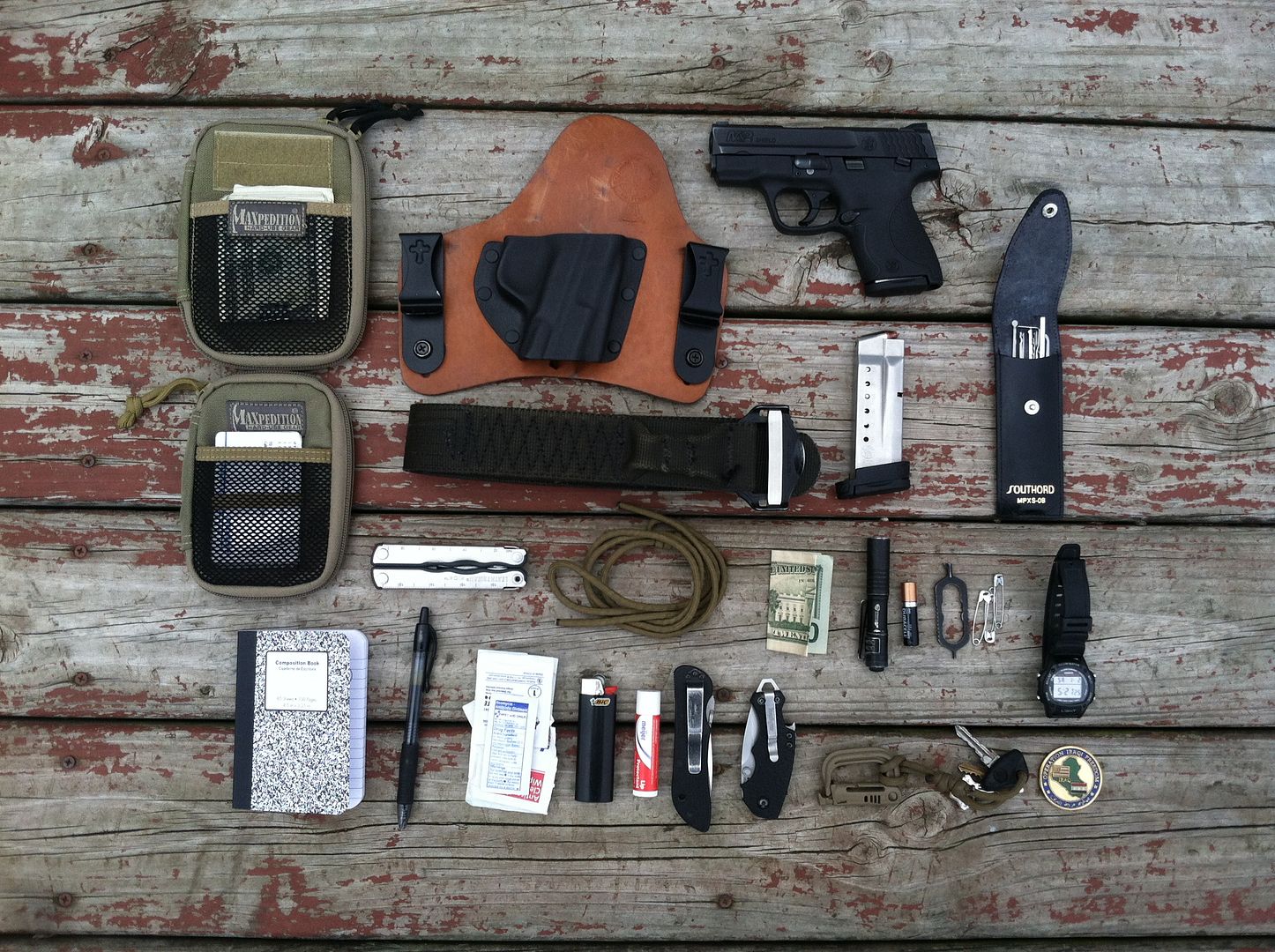 Smith & Wesson M&P Shield 9mm. I carry Hornady Critical Defense 115gr. FTX


Extra magazine




Benchmade Elishewitz tanto. I've had this knife for about 15 years.


Kershaw 8700 Shuffle. Just a cheap knife but I like the bottle opener and screwdriver build into the butt.




Streamlight MicroStream flashlight and extra AAA battery


215 Gear rigger's belt (Link is to an updated design. The buckle has been changed and it looks like a good improvement).


Maxpedition Mini pocket organizer (serves as my wallet)






Handcuff key


A few safety pins


6 foot length of paracord


Boo boo kit with gauze, tape, antiseptic wipes, antiseptic ointment, ibuprofen pills


Notebook and pen


Bic lighter


Chapstick


Casio watch


$50 emergency cash stashed separately from my wallet


Keys to my BMW R1100GS adventure bike


Operation Iraqi Freedom challenge coin


Not pictured is my Iphone 4 in a LifeProof case since I used it to take the picture.