ITS Shop
Payment Accepted:

DUNS #967358958
CAGE CODE 6DCH4
ITS ETA Trauma Kit (Fatboy)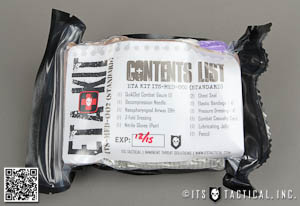 In Stock
By ordering ETA Kits, you warrant that you have the required training and authorizations to use the contained items. ITS Tactical assumes no liability for their misuse.
Due to Z-Medica policy we can not ship QuikClot Combat Gauze outside the US to non APO/FPO addresses. Any International non APO/FPO orders are not allowed on ETA Kits.
Developed by our 18D Corpsman and following the TCCC Guidelines, the ITS Tactical ETA Kit combines the best products on the market to treat the three leading preventable causes of death in the field. These are Extremity Hemorrhage, 60%; Tension Pneumothorax, 33% and Airway Obstruction, 6%.
Every item in our ETA Kit is carefully selected to complement the others and serve multiple purposes.We stress the importance of having an ETA Kit within your reach at all times and these have been made to conveniently fit in a cargo pocket, glove box, backpack, laptop bag, briefcase, you name it. With our Fatboy configuration, these ETA Trauma Kits fit our Fatboy Trauma Kit Pouches either sealed or broken down for easy access to the individual components.
Each ETA Kit is hand assembled right here in the USA. Purchasing an ETA Kit allows you to be prepared and carry the essentials to save your life and those around you. What's a life worth to you?
We highly recommend augmenting our ETA Kits with the SOFTT-W Tourniquet available here and optionally adding Molly Stix to make your medical pouch quick releasable!
Optional configurations for the ETA Kit include removing the Decompression Needle and NPA (ETA Kit Basic) or upgrading the QuikClot Z-Fold Combat Gauze LE to Z-Fold Combat Gauze (w/ X-Ray Detectable Strip – Green Package) for MIL/LE ONLY.
Standard Contents
QuikClot Combat Gauze LE (1)
HALO Chest Seal (2)
MojoDart Decompression Needle (1)
Nasopharyngeal Airway (NPA) Adj. 28fr (1)
Pressure Dressing (1 – 4″)
Elastic Bandage (1 – 2″)
Z-Fold Dressing (1)
Combat Casualty Card (1)
Nitrile Gloves (1 Pair)
Lubricating Jelly (1)
Pencil (1)
Contents List w/ TCCC Care Under Fire Instructions (on reverse) (1)
For further detailed information, please view the following articles, photos and video:
Z-Fold Combat Gauze LE
New Updates to our ETA Kits
Developing a Blow Out Kit
ITS Tactical ETA Kit