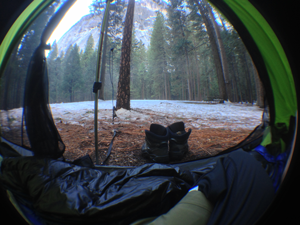 I arrived to my camp site around 2 in the morning. The full moon gave decent light but the drive into Yosemite Valley was completely foggy so I missed out on the scenery.
Searching for a spot to set up my tent, I eventually found one that someone had recently dug out. I wasn't prepared to clear the hard pack frosted layer of snow so this was perfect.
Even in the dark, setup was a breeze with the Meta 1P. Pitched and ready for sleeping, I threw my bag in the tent and racked out.
{ 1 comment }