ITS Shop
Payment Accepted:

DUNS #967358958
CAGE CODE 6DCH4
ITS Logo Sticker Pack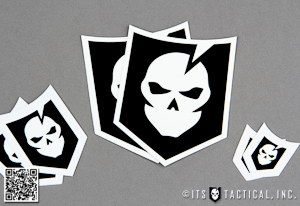 In Stock
Add to Cart
We listened to YOU! You guys wanted smaller version of our stickers to put on everything and here they are! You still get (2) of the original 3.5″ tall x 2.5″ wide stickers in each pack, but now you get (2) 1.75″ x 1.25″ wide small stickers and (2) 7/8 tall x 5/8″ wide mini stickers!!
Due to the small size and the way these had to be printed, there's a slim clear border around the smaller size stickers, but if you need them to fit someplace tiny you can always trim it out. (see photos)
Each Sticker Pack comes with a total of six high-quality silkscreen vinyl stickers in a resealable poly bag, which includes two of each size sticker that we offer. These stickers have a UV coating that will outlast all those other cheapo stickers! Slap em' on everything you own and spread the ITS Tactical love!
Made in the USA!