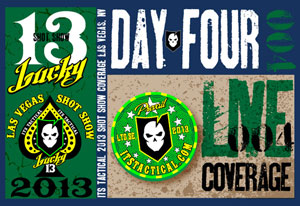 Stay tuned for live coverage coming from the 2013 SHOT Show floor on Day 4.
This post will update throughout the day as our coverage continues, so check back often for all the awesomeness!
If you have specific requests, please leave them in the comments and we'll do our best to track down the information for you. Thanks for tuning into our coverage!
–1411– Toilet advertising… You can now say you've seen everything.
–1238– The Minimalist AR Stock from Mission First Tactical.
–1233– Arc'Teryx Khard Packs – New single compartment bags with fully customizable interior.
–1227– New at Arc'Teryx Mattock Drysock. GORE-TEX integrated sock and gaiter in one piece.
–1155– SilencerCo/SWR announces SPECWAR 7.62.
–1148– MultiCam Local Motors Rally Fighter.
–1127– The TNVC WASP Clip on night vision device w/a catadioptric lens system = max resolution.
–1113– Up close with the new Multi Cam PVS-14 from TNVC. U.S. mags Gen 3 night vision monocular.
–1103– New EOD Pouch and Multi-Mode IFAK from Marz Tactical Gear.
–1049– New Aegis Echo & Pivlock V2 Tactical from Smith Optics w/great adjustable features for all sizes.
–1034– Refined MagPod from MultiTasker due out soon!
–1031– New MultiTasker 3 available in April or May this year! Includes 1/2″ hex for scope rings.
–1018– The ITS Crew falls victim to a coin thief!
–0953– Newly redesigned M-PACT Men's Gloves with many great improvements.
–0948– Mechanix Wear gloves for women. Approximately $36 and DON'T come in pink!
–0942– Realistic edged weapon training with the ShocKnife. Feels like a paper cut on the low setting!
–0939– Retractable training Shiv from Brainstorm/Canam.
–0937– Realistic safe training aids from Setcan.
–0930– Good looking Stream and Djibouti Sandals from Source new for 2013.
–0926– New Source iVis High Visibility Hydration Packs
Are you getting more than 14¢ of value per day from ITS Tactical?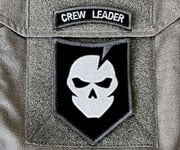 Please consider joining our Crew Leader Membership and our growing community of supporters.
At ITS Tactical we're working hard every day to provide different methods, ideas and knowledge that could one day save your life. Instead of simply asking for your support with donations, we've developed a membership to allow our readers to support what we do and allow us to give you back something in return.
For less than 14¢ a day you can help contribute directly to our content, and join our growing community of supporters who have directly influenced what we've been able to accomplish and where we're headed.